East Anglia World War Two Aircrew Crash Memorials
---
While creating the Article for War Memorials of Suffolk and Norfolk I came across many images and references for British, American, Canadian as well as Polish and Commonwealth aircrew who had lost their lives in crashes in East Anglia during World War Two.

I offer this article as a Sincere Tribute to those men who lost their lives defending my country so that today I may live in Freedom without the threat of Tyranny or Oppression
I have limited the area to the Hectads of TF - TG - TL & TM
If you know of any I haven't included please email me via Geograph
---
The mighty B-17 Flying Fortress, the iconic WWII strategic heavy bomber of the USAAF, and the last remaining flying B-17 outside of the USA. Named 'Sally B', she is operated by B-17 Preservation as a memorial to those who gave their lives flying bombing missions in the B-17 from British bases during the Second World War. Sally B starred in the 1990 film Memphis Belle that famously captured the bravery of the American aircrew that flew these missions.
by Mike Searle
---
---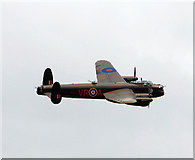 A large crowd >
Link
had gathered all along the accessible sections of the perimeter fence surrounding RAF Marham, waiting to see the flypast of two WW2 Avro Lancaster bomber aircraft and a Vulcan jet
Link
also built by Avro.
In 2014, the Battle of Britain Memorial Flight (BBMF) offered the unique occasion to see the only two remaining airworthy Avro Lancaster warplanes together in the skies over the UK, when the Lincolnshire-based BBMF aircraft was joined by its Canadian counterpart (seen here), owned by the Canadian Warplane Heritage Museum (CWHM) for the duration of one month. The CWHM Lancaster departed from Hamilton, Ontario, on 4 August, with the North Atlantic crossing including en-route stops at Goose Bay (Labrador, Canada), Narsarsuaq (Greenland) and Keflavik (Iceland), prior to arriving in the UK on 8 August. Together the two aircraft participated in a number of events and activities. This picture was taken on the occasion of a flypast over RAF Marham in Norfolk.
by Evelyn Simak
---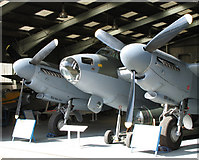 Mosquito TA634 Stands in the doors of the main hangar at the DeHavilland Heritage Centre, Salisbury Hall. The aircraft starred in the film '633 Squadron'. It is part of a fascinating collection of DeHavilland aircraft and memorabilia on the site where the prototype mosquito was built. Details of the museum at
Link

by Martin Addison
---
Three P-51 Mustangs flown by the Horsemen prior to the 2009 Flying Legends Airshow at the Imperial War Museum, Duxford
by Matthew Bristow
Work Still in Progress
---
---
( Page
1
2
3
4
5
6
next >>
)