Norwich in Lockdown :: Covid-19 Pandemic
---
Introduction
A 55-year-old individual from Hubei province in China is thought to have been the first person to have contracted COVID-19. The news had been reported in the South Morning China Post, which appears to be the original source. The case dated back to 17 November 2019, more than a month before doctors noted cases in Wuhan (in Hubei province) at the end of December 2019 (Jeanna Bryner, Live Science, 14 March). On 31 January 2020, the first cases of the new virus were confirmed in the UK after two members of the same family from East Sussex had tested positive for the infection, having caught the virus in mid-January after one of them had visited a ski resort in Austria, suggesting that the outbreak in Britain had started more than a month earlier than initially thought (Paul Nuki, The Telegraph, 25 March 2020). The first official coronavirus case in Scotland was confirmed on 1 March by NHS Tayside (BBC News Scotland). The BBC's Disclosure programme, however, claimed that the outbreak had started a couple of days earlier, and that the virus had been brought to Scotland by one of the 70 delegates from around the world who had attended a conference staged by the sports goods giant Nike at the Hilton Carlton Hotel in Edinburgh during the final days of February. By 2 March, Scottish health authorities were aware of the potential outbreak but the public were not informed (Stephen Wilkie and Katharine Hay, Edinburgh News, 11 March 2020).
By January 22, 555 cases had been recorded worldwide, and on 24 January the Chinese authorities imposed strict lockdown measures on ten cities in an unprecedented effort to contain the outbreak of this new virus. By that time cases had also already been confirmed in several other countries. On 11 March 2020, the World Health Organisation (WHO) declared it as a pandemic, and as of 17 March all countries within Europe had at least one confirmed case of COVID-19, as the virus had come to be known. MI5, the home security service, informs that terrorism is the biggest national security threat that the UK currently faces, a conclusion that is not, however, supported by the Cabinet Office's National Risk Register of Civil Emergencies (2017 edition), a document "given no publicity at all", according to David Spiegelhalter, who is a professor of risk at Cambridge University (New Statesman, 30 March 2020). Although the 2017 National Risk Register -
Link

- considered terror attacks to be more probable than a pandemic it had classified them as only having a Level 3 impact. Other key threats such as cyber attacks on infrastructure, widespread flooding, or a nationwide blackout, were all rated as both less likely and less impactful than a severe pandemic.
On the occasion of a press conference with Sir Chris Whitty (the government's chief medical adviser) and Sir Patrick Vallance (the government's chief scientific adviser) on 3 March, prime minister Alexander Boris de Pfeffel Johnson stressed that most people had no need to fear the illness. Two days later, on 5 March, he told ITV's This Morning that it should be "business as usual for the overwhelming majority of people in this country ... one of the theories is perhaps you could take it on the chin, take it all in one go and allow the disease to move through the population without really taking as many draconian measures". At a Downing Street press conference on 12 March, Johnson said: "I must level with you, I must level with the British public - many more families are going to lose loved ones before their time". At the same press conference he also said that the government was no longer trying to contain coronavirus and had instead moved to the stage where it was focusing on delay.
On 18 March, more than 250 million people were put in lockdown in Europe. On 23 March, lockdown measures were finally implemented also in the UK, although SAGE, the Scientific Advisory Group for Emergencies providing scientific and technical advice to support government decision makers during emergencies had recommended a lockdown already at the end of February. SAGE members' names had been kept secret until their names were leaked to and published in the Guardian newspaper on 24 April, bringing to light that two political advisors - the prime minister's chief political advisor, Dominic Cummings, (the former director of the Vote Leave campaign who famously advertised for 'weirdos and misfits with odd skills' to advise government), Ben Warner (a data scientist recruited by Cummings) and his brother, Marc were also members of this group and actively participating in discussions. Warner is a former principal at 'Faculty', an artificial intelligence startup run by his brother Marc Warner, which is currently working on an unprecedented health data-mining operation that is part of the government's response to the coronavirus outbreak. Furthermore it had transpired that Demis Hassabis, (a co–founder of Google's artificial intelligence division, 'DeepMind') on 18 March had attended a meeting as well. 'DeepMind' is documented to previously have processed millions of healthcare records from an NHS hospital trust as part of a scheme to design a diagnostic app, in an arrangement subsequently found to have contravened data protection law (reported by Paul Lewis and David Pegg in The Guardian newspaper, 29 April 2020). Needless to say that this revelation raised further questions concerning the independence of the group's scientific advice.
On 22 March, the day before lockdown had been declared in the UK, the number of confirmed cases worldwide stood at 335,157, with 177,230 deaths. By 22 April, the numbers had increased to 2,575,875 cases and 178,669 deaths worldwide. Due to the social and economic lockdown measures introduced by governments around the world to prevent the spread of coronavirus, the global economy was predicted to head for what the International Monetary Fund believed to be the worst recession since at least the Great Depression. 'Loud Sound', an events management firm that specialises in music festivals, was contracted to operate emergency mortuaries in London, some with capacity for thousands of bodies.
At first only the number of hospital deaths had been counted and were subsequently published by Public Health England (PHE) on a daily basis, until the Office for National Statistics (ONS) on 28 April announced that (based on data gathered by the care homes regulator) 4,343 deaths from coronavirus had also occurred in private care homes within a fortnight, in the period of 10 to 28 April, raising the UK's total toll including hospital deaths to 26,097 - the third-highest worldwide, surpassed only by Italy (27,359) and the USA (57,862). The UK's daily death toll, along with the number of hospital admissions, had by that time started to decline, suggesting that the UK had passed the first peak of infections, but the country was behind the curve in terms of declining daily deaths, according to the latest figures compiled by Johns Hopkins University. An analysis of data from the ONS dating from the previous week found that the true UK death toll from the pandemic was however likely to be far higher than government figures had so far recorded. The research compared the number of 'excess deaths' being registered since the outbreak against previous years, and suggested that the real death toll linked to the virus appeared to already be well above 40,000 (Chris Giles and Gill Plimmer, Financial Times, 28 April 2020).
General information
The WHO described COVID-19 as an infectious disease caused by a newly discovered coronavirus. "Most people who get infected will experience mild to moderate respiratory illness and recover without requiring special treatment. Older people, and those with underlying medical problems like cardiovascular disease, diabetes, chronic respiratory disease, and cancer are more likely to develop serious illness. The best way to prevent and slow down transmission is to protect yourself and others from infection by washing your hands or using an alcohol based rub frequently and not touching your face. The virus spreads primarily through droplets of saliva or discharge from the nose when an infected person coughs or sneezes, so it's important that you also practice respiratory etiquette (for example, by coughing into a flexed elbow)." At that time, there were no specific vaccines or treatments for COVID-19.
COVID-19 in the UK
A report analysing data on patients with confirmed Covid-19 from 286 NHS critical care units in England, Wales and Northern Ireland taking part in the Intensive Care National Audit and Research Centre (ICNARC) programme up to 30 April and published by the ICNARC on 1 May 2020 found that more than 70% of patients with coronavirus admitted to critical care were men. The figures were based on a sample of 7,542 critically-ill patients confirmed as having Covid-19. Researchers found that 5,389 of the patients were men compared to 2,149 women. The report also found that men were more likely to die in critical care, with 51% dying in care compared to around 43% of women. In total about 49% of the 5,139 patients admitted to critical care who had recorded care outcomes had died. Research by Prof Calum Semple (professor of outbreak medicine and child health at Liverpool University and a member of the New and Emerging Respiratory Virus Threats Advisory Group NERVTAG) and his team found that of the total number of patients, 17% required admission to high dependency or intensive care units and of these, 31% were discharged alive, 45% died and 24% continued to be treated in hospital. "Despite the best supportive care that we can provide, the crude case fatality rate for people who are admitted to hospital - that is, the proportion of people ill enough to need hospital treatment who then die - with severe Covid-19 is 35-40% which is similar to that for people admitted to hospital with Ebola." 
A 2019 National Security Risk Assessment (NSRA) signed off by Sir Patrick Vallance, the government's chief scientific adviser, and an unnamed senior national security adviser, was leaked to The Guardian newspaper and published on 24 April. The Cabinet Office document, which runs to more than 600 pages, revealed that ministers were warned last year "that the UK must have a robust plan to deal with a pandemic virus and its potentially catastrophic social and economic consequences, and that even a mild pandemic could cost tens of thousands of lives". The document also set out the essential capability requirements to mitigate the risks to the country, as well as the potential damage of not doing so. Recommendations included the need to stockpile PPE, organise advanced purchase agreements for other essential kit, establish procedures for disease surveillance and contact tracing, and draw up plans to manage a surge in excess deaths. Having plans for helping British nationals abroad and repatriating them to the UK was also flagged as a priority. 
Three years previously (in 2016) an exercise involving the simulation of an influenza pandemic, codenamed Exercise Cygnus, had been conducted. The conclusion reached had been that Britain was not adequately prepared for a flu-like pandemic's extreme demands. Film footage shows the then chief medical officer, Sally Davies, speaking after the exercise in 2016, saying that "It became absolutely clear that we could not cope with the excess bodies" (Harry Lambert, special correspondent of the New Statesman, May 2020). A 57-page report dated 18-20 October 2017 contained 26 key recommendations, including boosting the capacity of care homes and the numbers of staff available to work in them. The report had warned of the challenge facing homes asked to take in patients from hospitals. On 7 May 2020, it was revealed by David Pegg, Robert Booth and David Conn (writing for the Guardian newspaper) that none of the recommendations had been passed on by the government (Martin Green, chief executive of Care England, which represents the largest independent care home providers), but that the government had instead kept this report secret ever since it had first been circulated in Whitehall three years previously. During the coronavirus crisis, care homes had been asked to take in recovering Covid-19 patients. Up to 1 May, Covid-19 had killed 6,686 people in care homes in England and Wales (a third of all Covid-19 deaths), in some cases claiming dozens of lives in a single facility. Asked about the report, Matt Hancock (the health secretary), had replied that he had been assured by officials at the Department of Health that everything that was recommended had been done.
It soon transpired that the country had been woefully ill prepared. Many people hold the strong belief that government policy for the past decade had been to run down the National Health Service (NHS) by cutting funding in order to prepare it for the shift to mass private health insurance and complete privatisation of the entire physical hospital infrastructure -
Link

The social cost of this underfunding had resulted in a shortage of doctors, nurses and other medical staff, as well as of care workers. Tens of thousands of EU citizens working in the health sector had also recently left the country as a consequence of Brexit. Dozens of infected patients had to be turned away from the NHS Nightingale hospital in London, a field hospital set up in the Excel Centre in Canning Town, because there were too few nurses to treat them. There was also a shortage of personal protective equipment (PPE) for frontline staff. 'Nursing Notes', a platform run by nurses for others in the profession, reported that by 20 April at least one hundred doctors, nurses and care workers had died of coronavirus. The Doctors' Association UK and frontline doctors had been sounding the alarm about potential shortages since late February, but all they were offered were misplaced reassurances that the UK does have sufficient supplies. According to a survey by the Royal Pharmaceutical Society (RPS), over a third (34%) of respondents were still unable to access continuous supplies of PPE and almost 95% said they could not maintain the recommended two-metre distance from colleagues due to the size of their workplace in mid-April (Eastern Daily Press, 24 April 2020).
The UK government adamantly stated time and again that it had taken the right steps and was doing everything it could to increase stocks. However, in the course of a report by Richard Bilton for the BBC's investigative documentary programme Panorama and aired on 28 April, it was found that vital items had been left out of the national pandemic stockpile when it was set up in 2009, and that the government had subsequently ignored a warning from its own advisers (the New and Emerging Respiratory Virus Threats Advisory Group, NERVTAG), to buy missing equipment. Gowns, one of the items in shortest supply during the pandemic, had been especially difficult to source because of the global shortage of PPE, forcing some nurses to resort to plastic bags instead to protect themselves. Further to doctors and nurses consistently complaining about shortages of the life-saving FFP3 respirator masks, the Panorama investigation also brought to light that millions of FFP3 respirator masks were unaccounted for: there had been 33 million on the original 2009 procurement list for the stockpile, but only 12 million had been handed out (the government refused to explain where the other masks had gone). The documentary furthermore revealed that on 13 March this year, ie during the pandemic, the government had downgraded its guidance on PPE and told NHS staff that they were safe to wear less protective aprons and basic surgical masks in all but the most high risk circumstances, and that on the same day the government had taken steps to remove Covid-19 from the list of high consequence infectious diseases. Several weeks after Panorama's disclosure it had furthermore come to light that on the day coronavirus was declared an international emergency, 80% of respirators in the national pandemic stockpile had been out of date, and that around 200 million vital pieces of kit – including 20.9 million respirators from a total of 36.3 million, 19.9 million FFP3 respirators, more than 84 million surgical face masks (more than half of the national stockpile), syringes and needles – had all expired as well in the eight months before 30 January 2020. On 8 March, when the UK government initiated the drawdown of the pandemic stockpile, expired 3M masks remained untested and could for this reason not be distributed. In total, 45% of the 19,909 boxes holding PPE supplies had exceeded their use-by dates. (Channel 4 News Investigations Team - Ed Howker, Job Rabkin, Guy Basnett and Heidi Pett, 7 May 2020). Movianto, the private firm contracted to run the government's stockpile of personal protective equipment and a subsidiary of the US healthcare giant Owens & Minor Inc headquartered in Richmond, Virginia, had recently, ie in the midst of the coronavirus pandemic, been sold to a French company, an investigation revealed (Guardian Covid-19 Investigations, 22 April 2020).
The UK government had also declined, several times, an invitation to take part in a Europe-wide scheme to procure much needed equipment. The writer Philip Pullman suggested that the UK government should be arraigned on charges of conspiracy to murder if it is found that MPs did not take part in the EU procurement scheme for Brexit-related reasons. Indeed, the Foreign Office permanent under-secretary, Sir Simon McDonald, has stated in an interview (published in the Guardian newspaper on 21 April) that UK ministers had taken a political decision not to be involved in an EU ventilator scheme, which was, however, almost immediately denied by the health secretary Matt Hancock. The Labour MP Chris Bryant, who sits on the foreign affairs select committee, said on the following day that he feared the government was involved in a full-on cover-up over how it came to miss out on four rounds of procurement of personal protective equipment, ventilators and laboratory supplies launched by the EU in late February and March" (Guardian, 21/22 April 2020). In the end it however turned out that not as many ventilators were needed as first envisaged because of doctors learning more about the type of oxygen treatment required. Concerning the shortage of PPE, Hancock also told MPs that giving out free masks to the public would be "extraordinary", and that the government did not want to do anything that could lead to the NHS missing out. The UK government's advice to the public against the wearing of face masks would hence seem to have been driven first and foremost by the acute shortage of PPE. At that time more than 30 countries had mandated face coverings outdoors for the public, and masks were distributed free of charge amongst the population, whereas British people were told to wear scarves for protection. Critical posters and graffiti had also appeared at various locations in the city of Norwich, and presumably elsewhere too.
The full text reads: Cuts Kill - Tory Hypocrisy Sucks, and refers to the strong belief of a number of people that the Conservative party (ie the Tories) for the past decade has underfunded the NHS (one of several public services concerned) in order to prepare it for a shift to mass private health insurance and complete privatisation of the entire physical hospital infrastructure. For more information read:
Link

Considering that these very same Tories, who in June 2017 cheered after successfully blocking a meagre 1% pay rise for nurses, firefighters and police are currently urging people to clap in support of the NHS, and that many of the people who are now enthusiastically clapping have as a matter of fact supported the Tories' cuts by consistently voting for them, the mention of hypocrisy appears not to be unreasonable in context with the current Coronavirus pandemic which has shown up the many failings of this government. At the time of writing 17,337 people have died of the virus in UK hospitals. It is not known exactly how many people have so far died in private care homes. Home operators have however estimated that between 4,000 and 7,500 residents have already died.
For a wider view of this location see >
Link
.
by Evelyn Simak
For ten successive weeks, people had been encouraged by the government to clap at 8pm each Thursday in support of the NHS and other key workers during the Coronavirus pandemic. The graffiti refers to said clapping.
by Evelyn Simak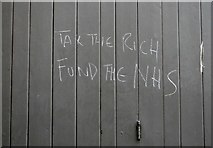 For a wider view of this location see >
Link
.
by Evelyn Simak
Poster in a window in Magdalen Road, referring to the alleged underfunding of the National Health Service by the Tory government.
by Evelyn Simak
The first two confirmed cases of coronavirus in the UK had been recorded on 31 January 2020. By 2 March there were already 20 cases, but as yet no deaths had been reported. At least six people had, however, already died from the virus in the UK by 5 March, the day the government reported the first death, which, according to details confirmed by Public Health England had occurred on 2 March in a care home. The first three hospital deaths occurred in Nottingham, Essex and Buckinghamshire on 3 March. By 13 March, the end of the Cheltenham festival when 68,000 people gathered for the Gold Cup, there had been 51 deaths in English hospitals at a time when only 11 deaths in the UK had been announced.
Initially the government (advised by SAGE) is believed to have been planning for the general population to attain herd immunity, by which 60% of the population - 40 million people - were meant to get infected in the hope that those recovering from the disease would develop antibodies (and hence attain immunity) - in the process of which an estimated 250,000 people would have died. The government has, however, always denied that this had indeed been the plan, despite their Chief Scientific Adviser (Sir Patrick Vallance), their Chief Medical Officer (Professor Chris Whitty) and the government's science adviser Dr David Halpern all being on record for having publicly indicated the government's strategy, which at that time had been "to allow the virus to pass through the population in order to allow individuals to acquire herd immunity at a delayed speed, while vulnerable groups were 'cocooned'. In a press conference on 12 March, Vallance had said: Our aim is not to stop everyone getting it, you can't do that. And it's not desirable, because you want to get some immunity in the population. We need to have immunity to protect ourselves from this in the future." Although more physical distancing had been advised during March, normal life mostly continued, with pubs, restaurants and gyms having stayed open, as did schools. The Cheltenham festival, a 3-day event and one of the highlights of the horse racing scene, was allowed to go ahead, with an estimated 125,000 people often in packed stands, as was the football Champions League match between Liverpool and Atlético Madrid, in a stadium packed with 54,000 fans, including 3,000 from Madrid - and yet again Sir Patrick Vallance had explained the government's approach: if potentially 60% of the population contracted Covid-19, Britain could generate herd immunity and while the vast majority of people would suffer only a mild illness, and herd immunity could thereby be built, the most vulnerable (ie the elderly and people with underlying health conditions) could be sheltered.
Testing
The government then changed tack and decided to rely on testing and contact tracing, but with Covid-19 having spread virulently, particularly during the first weeks of March this plan was again abandoned as a core principle on 12 March, ie the tracing of individual cases was halted, when the prime minister declared that the virus could no longer be contained. Only 1,215 people had been tested by that date. On 26 March, Dr Jenny Harries (the deputy chief medical officer for England) had actually stated that the World Health Organization's advice to 'test, test, test' was an unnecessary measure to curb the spread of coronavirus in Britain.
Testing, followed by contact tracing and quarantine, is the standard public health response to an infectious disease epidemic supported by the WHO. The UK government, however, had other ideas. By 23 April, only 8,595 tests per million of the population had been carried out. Portugal, for instance, had managed 29,473, Norway 28,055, Switzerland 26,293, Italy 25,028, Germany 24,738, Austria 22,854, Ireland 22,598, and Spain 19,896 by that date. Countries that had taken a 'test, trace, isolate' approach were running a far higher proportion of tests to positive cases than the UK. Germany, which by the end of April was down to fewer than 1,000 daily positive cases, was performing nearly a million tests per week. South Korea, with 15,000 tests per day, had had no more than 100 daily cases since the beginning of April.
Beginning in May, a smartphone app that instantly traces close contacts of people carrying the coronavirus and advises them to self-isolate was to be trialled on the Isle of Wight, before being made available to the general public as part of the government's new test, track and trace strategy (NSHX) - belatedly following the example of China, South Korea, Hong Kong and Germany, where contact tracing had been used extensively and outbreaks were contained more quickly. The prospect of an app that would give the government access to health and location data had, however, almost immediately triggered privacy concerns as it heralded an unprecedented level of surveillance.
As the numbers admitted to hospital rose and NHS staff began to stay at home because they or their family fell ill, the calls for testing became more vocal. However, too few test kits were available and it took until mid-April for routine testing of health workers to finally commence. Home testing kits for key workers offered by the government for the first time from 6am on Friday (24 April) morning at a newly-launched self-referral test site, had however run out of stock within minutes (GOV.UK/ALPHA). The list of key (ie essential) workers included people working in health and social care, education and childcare, key public services, local and national government, food and other necessary goods production, public safety and national security, transport, and utilities, communication and financial services - up to 10 million people.
The Department for Health and Social Care blamed the problems on significant demand (while having claimed only the day before that not enough people were coming forward). A couple of hours later it transpired that only 5,000 testing kits had been made available. On the same day, appointments for drive-through tests were filled within three hours. While the UK was nearing the grim milestone of 20,000 hospital deaths, test slots and testing kits for key workers had run out for a second day in a row on 25 April and again a couple of days later. It came therefore as no surprise to anyone that the 100,000 tests per day by the end of April, rashly promised by the health secretary Matt Hancock only two weeks earlier, did not materialise. While Germany had tested 30,400 people per million and France 31,603 per million by 29 April, the UK had managed a mere 12,058/million up to that date.
NHS Providers, which represents foundation trusts in England, had subsequently accused the government not only of making a series of tactical announcements to expand testing criteria, but dismissed the 100,000 target as a red herring that helped to distract from its failures. It indeed transpired that in an attempt to reach its self-imposed target of 100,000 tests/day by the end of April, the government had changed the way it had been counting the number of tests carried out: where a test had previously been counted once the sample had been processed in a lab, the Department of Health and Social Care in the last few days of April had included tests that had been sent by post to people's homes in its figures, meaning that tests were counted before the recipients had done them and actually returned their sample to the lab. Up to 50,000 of the tests reported as having taken place on 30 April in fact represented the mailing or the agreeing to mail a home testing kit (Nick Carding, Health Service Journal/HSJ, 1 May 2020). According to official statistics the number had dropped again by about 40,000 in the days that followed. (Cabinet Office Minister Michael Gove, Coronavirus press briefing 3 May 2020). Undaunted by yet another failure, the prime minister nevertheless promised 200,000 test by the end of May (Prime Minister's Questions, 6 May 2020). On 10 May it transpired that due to operational issues in UK labs the Department of Health had had to send more than 60,000 coronavirus test samples to the US for evaluation. It has since transpired that of the 67,000 tests, which had been sent to a lab in the US at the beginning of May, after capacity at a lab in Northern Ireland had suddenly stopped processing, about 30,000 samples had to be voided  due to the way they had been processed, and the people concerned had to be retested (Christopher Hope, The Telegraph, 4 June 2020). The number of daily coronavirus tests had just fallen below health secretary Matt Hancock's 100,000 target for the seventh day in a row. Government officials had since also admitted that two samples taken from the same patient were being counted and recorded as two separate tests in the government's official figures. This was not the first time the government had been caught massaging the testing data. In all, almost 350,000 more tests had been reported in government data than people had actually been tested since the start of the pandemic. (Mason Boycott-Owen and Paul Nuki, The Telegraph, 21 May 2020).
By late May, health officials in England and Scotland had been struggling to match hundreds of thousands of coronavirus test results to patient records: up to 350,000 Covid-19 test samples carried out at drive-through centres between 2 April and 6 May were believed to have been taken without recording individual NHS numbers or full addresses. England and Scotland had used a booking system which, nearly two months after the programme was launched, had resulted in health agencies still trying to retrospectively match each result with individual patient records. The devolved governments of Scotland, Wales and Northern Ireland had warned Matt Hancock (health secretary), about the problem in March (and Wales and Northern Ireland had since devised different methods). According to clinicians this meant that health managers and family doctors were not able to use results from drive-through centres to contain outbreaks. The Department of Health and Social Care had confirmed in early May that it was working to match results to patient records but said that this could take 'some time'.The problem did not affect tests carried out by NHS laboratories, which process results for hospital staff, patients and some care homes (Severin Carrell and Juliette Garside, The Guardian, 28 May 2020). The ONS had reported that 79% of those who had tested positive for coronavirus showed no symptoms, suggesting either that far more people were infected than previously thought, or that the test is not accurate enough to screen the general population.
Since 22 May, the government had failed to disclose the number of people tested for Covid-19, prompting criticism from senior scientists who had said this risked a perception that there was something to hide. Prof Allyson Pollock (director of the Newcastle University Centre for Excellence in Regulatory Science) had said that the lack of transparency was concerning at a critical time when testing was required to ensure that restrictions could be eased safely without triggering a resurgence of infections: "I have no idea whether we've got adequate testing (for track and trace) because we just don't have enough information. We should know how many people have been tested, why they've been tested, where they've been tested, who has done the test, the test results. We haven't got those figures." Figures released on 29 May showed that less than 131,500 daily tests had been carried out the previous day. No 10 had, however, insisted that it was on target to hit 200,000 daily tests by 1 June, as promised by health secretary Matt Hancock but no figure for the total number of people tested had been provided, which according to experts made it impossible to judge whether an adequate regime was in place to support the newly launched test-and-trace system. (Hannah Devlin and Peter Walker, The Guardian, 29 May 2020).
The government had furthermore been accused of using the coronavirus pandemic to transfer key public health duties from the NHS and other state bodies to the private sector without proper scrutiny and that the duty to keep the public safe was being outsourced to the private sector, after it had emerged that Serco was in pole position of winning a deal to supply 15,000 call-handlers for the government's tracking and tracing operation. In recent weeks, ministers had indeed used special powers to bypass normal tendering and awarded a string of contracts to private companies and management consultants without open competition. Deloitte, KPMG, Serco, Sodexo, Mitie, Boots and the US data mining group Palantir all had secured taxpayer-funded commissions to manage Covid-19 drive-in testing centres, the purchasing of personal protective equipment (PPE) and the building of Nightingale hospitals (Juliette Garside and Rupert Neate, The Guardian, 4 May 2020). On 6 May, a report authored by Helen Pidd and Juliette Garside brought to light that the results of hundreds of thousands of coronavirus tests carried out by the private firm Deloitte (an accounting firm whose failings had already led to test results of NHS staff having been lost or sent to the wrong address) at privately run drive-through centres, ie the majority of tests performed at that time in England, which had been set up in late March, had as yet to be shared with GPs or local authorities. GPs complaining about having no idea where local disease clusters might be located were advised that the government was still working on a technical solution (Guardian, 6 May 2020).
It had also transpired that of 31,000 tests delivered to care homes for testing all residents and staff just 7% had actually been carried out. Back in March, care homes had been told that they had to accept thousands of patients discharged from hospitals to help hospitals free up 33,000 beds ahead of the coronavirus surge, but due to a lack of community testing it had not been possible to test all patients, meaning the virus may have been able to spread without detection. Public Health England data showed that by the end of April the virus had established itself in more than 4,500 care homes across the country (Independent, 5 May 2020). Although testing capacity had by that time been increased substantially, the UK was nowhere near the widespread 'test, track and trace' strategy recommended by the WHO and followed by other countries such as Germany and South Korea. The former UK prime minister Gordon Brown described the level of testing being carried out in the country as almost criminal (Peston, ITV, 6 May 2020).
On 29 April, Josh Halliday writing for the Guardian newspaper reported that the government could in fact have met its 100,000 tests target weeks ago, had it not on 4 April turned down an opportunity to buy tens of thousands of coronavirus tests from the award-winning British scientist Fred Turner. The Curative test, approved by the US Food and Drugs Agency, is less invasive and easier to use than the nasal swabs favoured in the UK as it only requires a saliva sample from inside the mouth, rather than deep in the back of the throat or nose. The two-minute test, which is self-administered and designed for use at home without supervision, would not only have removed the need for potential Covid-19 victims to drive to testing facilities, but would also have lifted some of the strain on NHS staff, who were required to wear full personal protective equipment (PPE) to oversee the current tests. Early studies in the US had found the saliva test to be as accurate - if not more so - than the nasal swab test.
The lethal impact of the outbreak had already been recorded when Alexander Boris de Pfeffel Johnson, the current prime minister, joked about shaking hands with hospital staff in the first Downing Street coronavirus briefing on 3 March, while at the same time urging everyone to stay home, stay safe, to help the NHS, and to wash hands. Johnson would go on to continue shaking hands with people until at least 9 March, when a fifth victim was publicly confirmed to have died in the UK. The updated NHS England data shows that 16 people had died by 9 March, including three on that day. At some time in March he contracted the virus and himself ended up in intensive care for several days. On 5 April, the day he was admitted to hospital, the hospital death toll in the UK stood at 4,934.
According to a report published in the Guardian newspaper on 20 April, the government had by then come under some pressure to defend its handling of the coronavirus pandemic after it was forced to admit that the prime minister had missed five key emergency meetings when the crisis first hit in late January and February while he was taking a break at Chequers, his country retreat. "With ministers warning that shortages of protective medical gear could continue, test rates remaining stubbornly low and the hospital death toll rising on Sunday to 16,060, some Conservative MPs have expressed private concern that Downing Street does not have a strong grip on the crisis. Johnson's role in the decision-making over crucial weeks before the UK-wide lockdown now risks becoming a symbol of perceived inattention, with Labour saying the prime minister appeared to have been missing in action at the time."
---
---
( Page
1
2
3
4
5
6
7
8
...
next >>
)