SE0020

Links for SE0020
---
To see the browse page, the 1:25000 map in a popup window, or various other options click on 'Links for SE0020' and select the appropriate link.
This square is almost entirely moorland, with 'right to roam'. The triangular area of fields (see 1:25000 map) is in Hebden Royd CP (Civil Parish), formerly in Sowerby, and later in Mytholmroyd Urban District. The moorland is in Ripponden CP, formerly in Soyland.
The main feature of the square is Great Manshead Hill, with a summit at 404m AOD (above Ordnance datum) on which the 1850 map shows a triangulation pillar. The highest point on the hill is Manshead End, in
SD9919
, which still has a triangulation pillar at 417m AOD). The underlying rock is millstone grit, but there are no outcrops in the square, apart from a few boulders.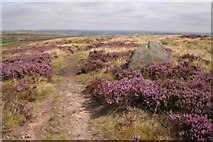 The 'permissive path' along the spine of the hill is part of the Calderdale Way. The route does not match the black pecked lines that presumably represent the actual path. The path is shown on the 1850 six-inch map and named as Manshead Gate, gate meaning a way. The vegetation is tussocky grass, with patches of heather, and rushes in the wetter parts around the hill.
The double pecked lines on the western side of the hill are for a track named on the 1850 six-inch map as Liberty Gate. Other tracks are marked on this map; Great Gate along the southern edge looks to have been an old route from Sowerby to Blackstone Edge and Lancashire, and a track captioned 'Foot Path' ran North-South down the centre of the square.
A channel that fed Flints Reservoir loops into the square at the NE corner. The channel is overgrown, and breached in some places. There is a path along the eastern bank.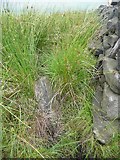 There are two boundary stones on the moor. I found this one at the second attempt, but even with the help of a GPS receiver I have not yet found the one at SE00822092. They are not shown on the 1850 map (which shows 'Mound' at the position of the missing stone), but are shown on the 1893 1:2500 map.
Link to OS six-inch maps

on the Calderdale Council map site.
Search for Sykes Gate and then pan SE. You can adjust the zoom level and change instantly between four editions of the OS six-inch map from 1851-5 to 1934-48.
1:2500 maps can be seen on
Link

. Enter the all-figure grid reference for the centre of the desired view. For SE prefix the easting by a 4 and the northing by a 4. The map window is approximately 950m by 650m.
---
Great Britain 1:50 000 Scale Colour Raster Mapping Extracts © Crown copyright Ordnance Survey. All Rights Reserved. Educational licence 100045616.

Further links for SE0020