Seeking out the Black Isle's hidden corners

Links for NH6555
---
Seeking out the Black Isle's hidden corners
Julian Paren
This article was published in the Winter 2014 Edition of the Black Isle Magazine - Chatterbox. The editor requested the article after a number of images from Geograph were used without accreditation in the Autumn Edition of the magazine.
Nine years ago a small group of photographers who were map fanatics and IT specialists invented a new game - Geograph. The object was to visit every Ordnance Survey Grid Square in the UK and take a photograph. In the 1920s the Ordnance Survey devised the OS National Grid that identifies places by a group of letters and numbers, and added the framework of the system, Ordnance Survey Grid Squares, to all their maps. Each Grid Square is 1 km by 1 km, and the UK map needs 230,000 of them. The Geograph website contains the images collected for the project and there are leader boards that show how active each Geographer has been. Special acclaim is given to the first person to venture onto a new Grid Square and their image becomes a First Geograph; additional images from the Grid Square are always welcomed. The Ordnance Survey sponsor Geograph and provide the website with very detailed mapping, so that all the images are accurately located.
Today 12,000 contributors have added over 4 million images to the site, but after nine years 2.5% of the UK remains untrodden. The unvisited Grid Squares are chiefly in rural Scotland – in rather inaccessible places, far from a track or mountain footpath, and often in boggy terrain. Nonetheless Geograph has members who revel in getting to such places, and each week a number of these untrodden squares are photographed.
Coast near Scart Craig north of Rosemarkie. The rocks near here are dominated by the Rosemarkie Inlier with its salmon pink leuocogranitic rock. The walk along this coast looks different every day of the year.
When I came to the Black Isle in 2008 there were untrodden squares in the Millbuie Forest and along the coast between Kilmuir and Cromarty. I planned walks and bike rides to photograph them and completed the Black Isle's squares on a ride along forest paths close to Mount Eagle. I later realized that one Grid Square still remains unvisited (
NH7267
). In it a finger of a sandbank jutting out into Udale Bay is exposed mud at the lowest Spring tides. I think a canoeist will bag this square.
My personal Geograph ambition is to visit in good weather all the 340 Black Isle Grid Squares on foot or by bicycle. So far I have covered 230 of them and for many of the Grid Squares I have contributed more than one image. I am in no hurry to complete the project.
Once you examine the Black Isle map in detail, you realize just how many archaeological sites there are, how many disused quarries, and how off-track some of the Sites of Special Scientific Interest are. You can find squares in the fertile areas where on the map there are no houses or tracks, just field boundaries. You can find woodland where the map shows open ground, and fields where your map shows woodland. You discover very well used footpaths that appear on no Ordnance Survey maps, yet more often there are mapped tracks that once served a local community, which you would need an army of machete wielders to force a way through today.
Images on Geograph are covered by a Creative Commons Licence and may be freely reproduced. So Geograph images illustrate articles on Wikipedia, the BBC News website and elsewhere. Some Scots Pines flattened by our house are seen on the website of Forestry Consultants in France! Geograph is an Educational Charity and its members create focussed collections of the site's images and write articles about them. Geograph has forums concerned with mapping, geography and the technical side of photography together with a Same Place – Different Time forum where the changing face of the UK's urban and countryside environment are explored. There is a weekly photographic competition in which a volunteer looks through all the 7000 or so new images submitted that week, and chooses a short list of 50 for the winner of the previous week's competition to select the winner. In a monthly competition, around 60 of the contributors, who take the photographic qualities of their imagery seriously, nominate one of their previous month's submissions for judging.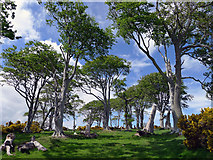 Access to McFarquhar's Bed. Once a fine avenue of trees that are now past their best, but it is interesting to realize that the excursion to McFarquhar's Bed was so popular at one time.
There is no law of trespass in Scotland, but I have felt unwelcome at the limits of the road network. You can find some very obstructive signs if you want to go where few have chosen to go before you. Some of the untrodden Grid Squares reflect real or psychological barriers imposed by landowners. If you are attuned to wilderness you will find there are empty squares close to the Black Isle. The Monadhliaths and Flow Country are not unexpectedly available for First Geographs, but so too are parts of Strathfarrar and Strathconon away from the main mountain paths.
I have a hand-held GPS to accurately locate my position when Geographing and I upload the tracks to OpenStreetMap and improve the reliability of the local mapping. The updated maps are available on-line and are used by Transition Black Isle's Million Miles Project and CycleMaps to show off-road cyclists and walkers where tracks genuinely exist. Recently Black Isle Bicycles have produced a SplashMap (The wearable, washable, all-weather map designed for the real outdoors) of the Black Isle, printed on a fine cloth that includes the recent additions. I find it gratifying that this hobby contributes to both an image bank and to better mapping.
South Shore of Munlochy Bay. This Local Nature Reserve gets very few visitors other than those who stay awhile at the Observation Point off the road between Avoch and Munlochy. The further shore is very quiet indeed.
Geograph has taken me to some remarkable places on the Black Isle I would not otherwise have chosen to visit. The tip of Redcastle Pier (
NH5748
), a quarry in Millbuie Forest (
NH6760
), the archaeological excavation of a Ferintosh Distillery (
NH5756
), Belmaduthy Chambered Cairn (
NH6455
)), Ferryton Point (
NH6767
), Matheson's Stone (
NH6853
), Lundie Fort (
NH6650
), the tarn in Drummondreach Wood (
NH5757
) – all have left a deep impression.
Matheson's Stone. Marked on the 1:25,000 Ordnance Survey Map but not on the 1:50,000 map. This stone is rather well hidden even if you are looking for it.
If you would like to join the fun, just register with Geograph. If you would like to see how your own area has been imaged you should find Geograph's Search Tools easy to use, and you will find at least one image taken within 1 km of your house. If you feel you could do better, then let Geograph publish your image – but remember you give away the Copyright. And if you see a photographer lurking near your home, it could be me in a square I have not walked in before.
Geograph Project:
Link

My profile page on Geograph:
Link
Open Street Map:
Link

Cycle Street Black Isle:
Link

Black Isle Bicycles Splash Maps:
Link

Julian Paren julian.paren@gmail.com
---

Further links for NH6555