Snowdon, Snowdonia National Park

Links for SH6054
---
Highest summit in Wales.
Known as Yr Wyddfa in Welsh
Location Map

More Links for
SH6054

Llechog is the ridge curving down from Snowdon summit, with Cwmclogwyn below the summit. The new summit cafe, Hafod Eryri, is just visible.
by David Medcalf
Below the summit of Snowdon Glaslyn lies in deep shadow with its outflow, the Afon Glaslyn, seen alongside the Miners Track. The dramatic ridge on the left is Y Gribyn, which affords a route, for the confident experienced scrambler, up to Bwlch y Saethau and ultimately the summit.
by John S Turner
On a clear day, you can see beyond your nose - in fact for MILES :). But mind your step climbing up and down from the summit. How much fun it is to know the number of 'daytrippers' who go up and down on the steam train thinking they've 'done' Snowdon when in fact they don't take the final few steps to the peak.
by Michael Westley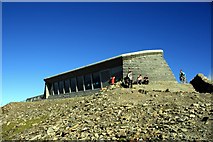 Hafod Eryri, the new £8.4 million visitor centre and cafe on the summit of Snowdon.
Wikipedia
Link

by Jeff Buck
More images


Further Reading
---
Great Britain 1:50 000 Scale Colour Raster Mapping Extracts © Crown copyright Ordnance Survey. All Rights Reserved. Educational licence 100045616.

Further links for SH6054