Geo-Trips :: Low cloud and a little snow on Pumlumon
Pumlumon Fawr
A walk from Nant-y-Moch, Sun, 22 Nov 2015 by Rudi Winter
A surprise sunny cold spell at the weekend between two miserable, murky November weeks gave an opportunity for a quick ascent of Pumlumon Fawr from Nant-y-Moch reservoir. As the camera battery was playing up, I had to resort to using the phone to take pictures - with reasonable results.
Starting from the minor road running up the eastern shore of Nant-y-Moch reservoir, I took the hydro track to Llyn Llygad Rheidol, waded through the stream emerging from its overflow and made my way up towards the boundary fence across Pen Cerrig Tewion, more or less following the side of the trench Nant y Graig-las has left in the hillside. Good views of Llyn Llygad Rheidol and the surrounding eastern and northern ridges of Pumlumon Fawr.
It was quite sunny and warm up to this point, but as there was cloud over the summit, it felt quite icy higher up, with a little snow on the ground. There was a very sharp boundary to the cloud a little to the north, and southern Snowdonia could be seen beneath in full sunshine. Pumlumon's summit itself was just touching the cloud base, making for interesting views of Nant-y-Moch and Cwm Hengwm reflecting sunlight from below.
The descent via Pumlumon Fach was a cold and somewhat miserable affair since I slipped on a snow patch and landed in a bog puddle. Once I was back on the hydro track, the sun and some warmth returned.
On the map below, the grey line is the GPS track from this trip. Click the blue circles to see a photograph taken from that spot and read further information about the location. The blue lines indicate the direction of view. There is also a slideshow of this trip. ( )
↓ Scroll down here ↓

Cloud front over Cwm Hengwm
View northeast from the minor summit known as Pumlumon Llygad Bychan, about a... more

Eastern and northern ridge of Pumlumon Fawr
Pumlumon Fawr's northern slopes as seen from the boundary fence across Pen Cerrig... more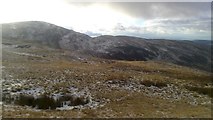 Pumlumon Fawr and Fach
The view follows the eastern ridge of Pumlumon Fawr. The main summit is just out... more

Summit cairn of Pen Pumlumon Fawr
The cloudbase touches the summit of Pumlumon. A sunny Nant-y-moch reservoir can... more

Northern ridge of Pumlumon Fawr
At the northern tip of the summit plateau of Pumlumon Fawr. The ground drops very... more

Maesnant and Nant-y-Moch from Pumlumon
Seen from the northern tip of the summit plateau of Pumlumon Fawr, sunlight... more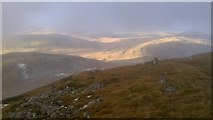 View north from Pumlumon Fawr
The view from the northern tip of the summit plateau stretches from Pumlumon Fach... more
All images © Rudi Winter and available under a Creative Commons licence

.