Geo-Trips :: By the Black Water - Silver Bridge to Old Garve
Garve
A walk from Silver Bridge, Sat, 12 Nov 2016 by Julian Paren
This is a short and popular walk beside the Black Water, traversing a section between two old bridges allowing a circular walk using both banks of the river. The Black Water has some fine waterfalls in this stretch of the river while it crosses some interesting geology. A walk for any season, but probably at its best with ice beside the river or in the autumn.
There is much to see and explore, especially the architecture of the bridges. Allow a minimum of 1 hour 30 to enjoy the 2.5 mile circuit.
On the map below, the grey line is the GPS track from this trip. Click the blue circles to see a photograph taken from that spot and read further information about the location. The blue lines indicate the direction of view. There is also a slideshow of this trip. ( )
↓ Scroll down here ↓

Footpath beside the Black Water River
Part of the Forestry Commission of Scotland signposted walk. According to FCS... more

Waterfall on the Black Water
From the Forestry Commission for Scotland signposted walk. According to their... more

Rock strata beside the Black Water
The rocks are well covered in moss. According to the Forestry Commission for... more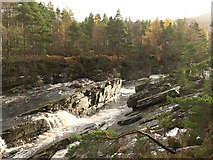 Falls on the Black Water
The riverside footpath leads one past good viewpoints for admiring the falls that... more

On the old bridge over the Black Water at Little Garve
Closed to motor traffic the bridge connects the two sides of the Black Water to... more

The old bridge, Little Garve
Now an important link for pedestrians on a circular walk from Silver Bridge.... more

Silver Bridge
Now for pedestrians only with the A835 crossing the Black Water on a two lane... more

The Black Water north of Silver Bridge
The Black Water has its origins in the outflow of Loch Glascarnoch and the river... more
All images © Julian Paren and available under a Creative Commons licence

.