Geo-Trips :: A walk on Macclesfield Canal and The Cloud
The Cloud
A walk from Timbersbrook, Wed, 19 May 2010 by Raymond Knapman
A walk with variety,taking an easy towpath walk around the Cheshire Ring to Bosley Locks. Then via the disused railway to Tunstall road, and the path up The Cloud,steep but short.
Descend down to Timbersbrook via the path on the wooded west side of the hill.
Click the blue circles to see a photograph taken from that spot and read further information about the location. The blue lines indicate the direction of view. There is also a slideshow of this trip. ( )
↓ Scroll down here ↓

Pool Bank at Timbersbrook
View from Gritstone Trail to Brookhouse Lane

Biddulph Valley Way
The trail passes under the main railway line between Stockport to Crewe

Stone milepost on Macclesfield Canal
Milepost is between bridge 68 and 69

Bridge 61 takes the A54 over the Macclesfield canal

Crossley Hall farm from the Macclesfield Canal
View with The Cloud in background

Railway bridge over Macclesfield Canal
Stockport to Crewe mainline crosses the canal

Crossing the weir bridge on the Macclesfield Canal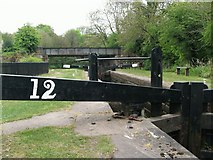 Disused railway bridge crosses Bosley Locks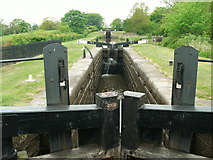 Lock 10 at Bosley on the Macclesfield Canal

Disused railway embankment next to Bosley Locks
View towards The Cloud

Toft Green House
The path ascending The Cloud starts opposite this house

Marker post on path ascending The Cloud
View towards Croker Hill radio mast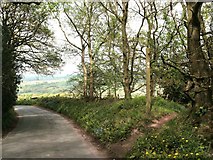 Gritstone Trail signpost
Post is near hillside farm

Gritstone Trail signpost
The post marks the path up to The Cloud

National Trust entrance sign for The Cloud Summit

Rock outcrop on The Cloud
View towards Crossley railway viaduct

Southern entrance to The Cloud
This marks the boundary of the National Trust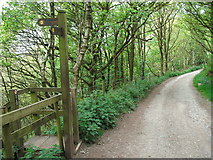 Gritstone Trail signpost at Timbersbrook
The trail descends steep steps from the road down to Timbersbrook car park
All images © Raymond Knapman and available under a Creative Commons licence

.