Geo-Trips :: Public footpath from Sydenham across Thame Park
Thame Park, Oxfordshire
A walk from Sydenham, Wed, 23 Aug 2017 by David Hawgood
Footpath, stiles and bridges in Thame Park are well maintained, giving a pleasant walk through open parkland grazed by sheep. In August 2017 a small section of the official route near Manor Farm, Sydenham, was overgrown but there was an easy bypass on tracks. Access at the Thame end is onto a busy B-road with no pavement.
Click the blue circles to see a photograph taken from that spot and read further information about the location. The blue lines indicate the direction of view. There is also a slideshow of this trip. ( )
↓ Scroll down here ↓

Official route of public footpath overgrown
The waymarked route of the footpath goes from a good track over a stile into a... more

Track and houses near Manor Farm Sydenham
The track is a public footpath.

Footbridge on public footpath overgrown by brambles
The bridge is on the official route of the public footpath but there is a track... more

Stile on public footpath into New Park, Thame

Sheep on path across New Park, Thame
Thame Park is beyond the belt of trees which is part of Sydenham Hurst.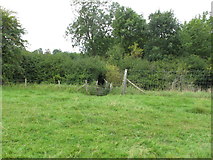 Footbridge and gate on path out of New Park, Thame
The bridge is over one of two streams feeding the lake in Thame Park. The belt of... more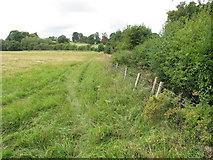 Field between New Park and Thame Park
The field is between two streams which feed the lake in Thame Park. The public... more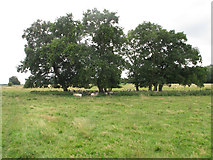 Sheep under trees in New Park, Thame
The public footpath across the park goes by this clump of trees.

Footbridge on path from Thame Park to Sydenham
The bridge crosses the larger of the streams feeding the lake in Thame Park.

Tall kissing gate in Thame Park fence
The gate is on the Thame Park side of a bridge carrying the public footpath from... more

Thame Park house from public footpath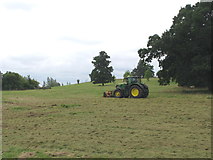 Tractor mowing in Thame Park
View from public footpath.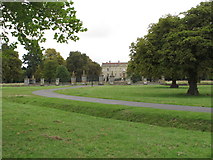 Ornamental gate to Thame Park House
View from public footpath. The drive through Thame Park from the South gate bends... more

Trees and sheep in Thame Park
There are single trees and small clumps of trees scattered throughout the park.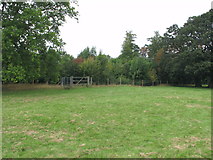 Public footpath leaves Thame Park near B4012 road
There is a band of young trees between the park and the road.

Flower bed by coronation and jubilee plaques, Sydenham
The church and the Old School House are seen beyond the wall.
All images © David Hawgood and available under a Creative Commons licence

.