Geo-Trips :: A climb up Creag Pitridh
Ardverikie Forest
A walk from Moy, Thu, 18 Sep 2003 by Nigel Brown
Creag Pitridh is the lowest of the three Munros of the Ardverikie Forest and lies to the side of neighbouring Geal Charn. It was a rather dull day when I left my car in the layby at the start of the track to Luiblea. I soon left the Luiblea track for another which heads for the hills, and after 5km of easy walking arrived at the western end of distictive Lochan na h-Earba. Here a well-made stalker's path heads east uphill, following the Allt Coire Pitridh. After another couple of kilometers Creag Pitridh came into view to the north west, and it was an easy climb up grass slopes to the pointed summit and cairn.
Click the blue circles to see a photograph taken from that spot and read further information about the location. The blue lines indicate the direction of view. There is also a slideshow of this trip. ( )
↓ Scroll down here ↓

Summit cairn of Creag Pitridh
Beinn a' Chlachair is the hill in the distance.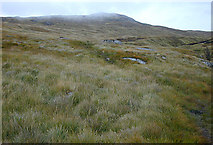 South west slopes of Creag Pitridh
Away from the summit rocks, grassy slopes fall towards the path up the Allt Coire... more

Track to Lochan na h-Earba
Swinging round the corner, Creag Pitridh, the day's destination, comes into view.

View towards Beinn a' Chlachair
Looking across very damp moorland to the mountain.

View towards Lochan na h-Earba
Looking towards the north easterly one of the pair of lochans with the same name.... more

View towards Loch Laggan
Looking over the col between Binnein Shuas and Binnein Shios to the loch.
All images © Nigel Brown and available under a Creative Commons licence

.