Geo-Trips :: Up Mullach Clach a' Bhlair
The western Cairngorms
A walk from Glen Feshie, Thu, 22 May 2003 by Nigel Brown
Mullach Clach a' Bhlair is one of two Munros which lie above the eastern side of Glen Feshie, lying on edge of the Cairngorm plateau. We'd already done the northern one, Sgorr Gaoith, and initially followed the same route, up the very useful stalkers path up Carn Ban Mor from near the road end at Achlean.
Once at the summit of the path the vast high plateau of the Moine Mhor opens out in front, bounded on the north and east by a string of Munros, with Carn Toul central. Our route headed south over easy moss-covered ground, aiming for the eastern tip of Coire Gharbhalach; you can reach this point by continuing along the path then a track, but it's longer and less interesting.
Once at the head of the coire we skirted the edge, with frequent glances into its depth; it's a remarkable feature and worth visiting in its own right. Then we took the track, leaving it to gain the summit of the mountain. After admiring the view while munching butties, we retraced our steps along the track until we reached a branch which headed downhill west, on the southern edge of the corrie.
Once in Glen Feshie we crossed the river near Carnachuin, and headed downstream, crossing the river again to pass Achlean and reach the car park. Note that the former bridge no longer exists, and so you need to use the east side of the river instead.
Click the blue circles to see a photograph taken from that spot and read further information about the location. The blue lines indicate the direction of view. There is also a slideshow of this trip. ( )
↓ Scroll down here ↓

North of Coire Garbhalach
Essentially the western edge of the Mòine Mhòr. The nearby dip is... more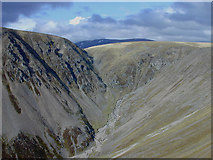 The head of Coire Garbhalach
In the distance you can see the ridge from Einich Cairn round towards Sgor an... more

East of Coire Garbhalach
Mossy slopes lead away towards Mullach Clach a' Bhlair in the distance. The coire... more

View north east of Mullach Clach a' Bhlair
Looking across the superb expanse of the Mòine Mhòr. In the distance... more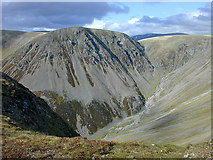 View across Coire Garbhlach
Looking across the head of the Coire from the landrover track which climbs the... more
All images © Nigel Brown and available under a Creative Commons licence

.