Geo-Trips :: A long walk up the Munro of Carn Bhac
Braemar
A walk from Inverey, Fri, 30 Jun 2000 by Nigel Brown
South west of Braemar lies a large area of high moorland, intersected by deep glens, crowned with a number of rounded and undistinguished summits. Nevertheless it is good walking country. An overcast, dull day greeted me on the final day of my short Braemar stay, not really a day for the more dramatic options, so I decided to climb the highest of these summits, the Munro of Carn Bhac. A look at the map yielded an interesting looking roundabout route.
I parked at Inverey and headed south along a track on the western side of the Ey Burn. The track soon swung away south west up a side glen, then further on due west, climbing until it reached a col near Carn Liath, on an extensive complex of ridges. The main climb over, a long ridge walk beckoned. I headed south over two very minor summits, until I reached the more distinctive Geal Charn, covered with the white stones which give it its name.
A dog-leg ensued, first east then south, to reach the western top of Carn Bhac. From time to time, groups of deer, some quite large, would break across the ridge. Finally, I headed east again, for the main summit. It had a remote feel, no distinctive features anywhere near, save for the equally remote group of large Munros to the south, centred on Beinn Iutharn Mhor.
Once I'd had my butties I headed off down the steepish north east ridge to the flat floor of the glen of the Allt Connie. There were several shielings in the glen, and a useful path which led back to my outward route, thence back to Inverey and my car. Overall, a pleasant round trip of 20km.
Click the blue circles to see a photograph taken from that spot and read further information about the location. The blue lines indicate the direction of view. There is also a slideshow of this trip. ( )
↓ Scroll down here ↓

Track near the Allt Connie
A little used track along the flat glen floor; near its end old sheilings can be... more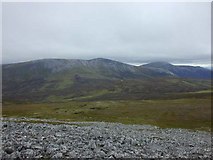 Southern slopes of Carn Bhac
Gentle mainly heather covered slopes are found on this side of Carn Bhac, and can... more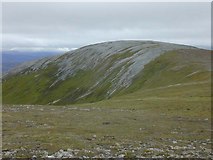 Western approach to Carn Bhac
Easy walking on a gently rising ridge, until stonier ground is reached.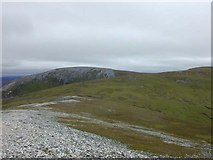 East from Geal Charn
The east ridge of Geal Charn is covered with white stones. Where they end a ridge... more

Moorland north west of Carn Bhac
This long high moorland stretches nearly 4km from Carn Liath in the north to Geal... more

Geal Charn from the east
From near the foot of the connecting ridge to Carn Bhac.

Glen of the Allt Coire Bhearnaist
Grassy floor to the glen with encroaching heather. Sheilings close by indicate... more
All images © Nigel Brown and available under a Creative Commons licence

.