Geo-Trips :: North-east Dartmoor
From Manaton to North Bovey and back
A walk from Manaton, Mon, 5 Feb 2018 by David Smith
An easy walk with our regular group around Easdon Tor
Click the blue circles to see a photograph taken from that spot and read further information about the location. The blue lines indicate the direction of view. There is also a slideshow of this trip. ( )
↓ Scroll down here ↓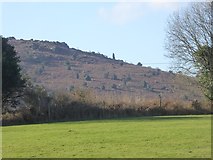 Bowerman's Nose in silhouette
The north slope of Hayne Down with Bowerman's Nose seen against the sky

Cricket pitch and pavilion, Manaton
The pitch has a little more of a slope than that at Lord's

Stone cross, Manaton churchyard

Stile and minor road, near Langstone Cross

Tree at the entrance to Torhill Farm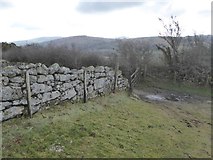 Wall on Easdon Tor
The gate is on the track from Barracott

The edge of farmland, Easdon Tor
The angle of a granite wall surrounding farmland at Easdon

Rocks on Easdon Tor
Just south of the trig pillar

The trig pillar on Easdon Tor
At SX 72946 82308

The north-west slope of Easdon Tor

Heather on the north-west of Easdon Tor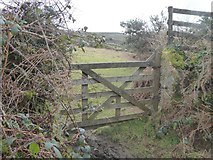 Gateway to Easdon Tor, Langdon
Looking towards the summit from the end of the footpath

Junction of paths, near Langdon
There is a difference between these paths. On the left, a muddy bridlepath leads... more

Gorse by the lane north-east of Langdon

Stream flowing towards Bowden Farm

Field entrance near North Bovey
The lower edge of the field is markedly higher than the road, so there has to be a... more

Two field gates with a granite wall between fields

Track to a field gate, near Yarde

Old Yarde, house and tree
The tree was still alive in [[3077707]]; in the winter it isn't so obvious if it... more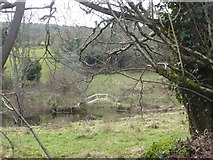 Modern footbridge over stream, Yarde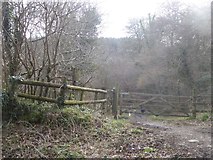 Private woodland, Hourder Plantation, Yarde

Former mill buildings, Blackaller, North Bovey

Bovey Bridge
Bridge over the River Bovey at Blackaller

Leats at Bovey Bridge
Two leats upstream of the bridge; that on the left comes from the mill at... more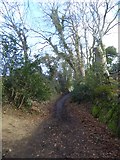 Path from Bovey Bridge to North Bovey church

North Bovey church
Dedicated to St John the Baptist

The clock of St John the Baptist church, North Bovey
Inscribed "Thy Kingdom Come" 1907

The lych gate of St John the Baptist church, North Bovey
The board in the gate lists those from the parish who fought in the First World War

North Bovey village cross
Retrieved from use as a footbridge http://www.dartmoor-crosses.org.uk/north_bovey.htm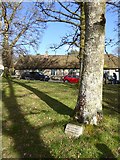 North Bovey village green commemoration of peace
Many of the trees on the green have dated commemorative stones. This one marks... more

The Ring of Bells inn, North Bovey
Newly repaired after a fire in early 2016

North Bovey sewage treatment works

Ford and stepping stones across River Bovey
Be reassured, there is a footbridge as well!

Hollow lane from North Bovey to Dickford Bridge

Dickford Bridge
Crossing Dickford Water, a tributary of the River Bovey

Field south of the valley of Dickford Water
The trees beyond this field line the stream. The gate has a curious structure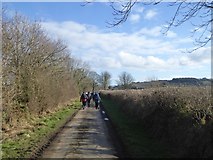 Walking to Barnecourt
The direct route from North Bovey to Barnecourt is surfaced at each end and has a... more

Entrance to the farm at New Barn and Southlands Farm

Field and view west from Barnecourt
Looking towards north Dartmoor

Footpath sign by Beech Cottage
The start of a path to Foxworthy and Hunters Tor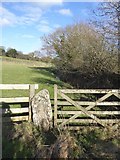 Stone gatepost and wooden gate, by path to Foxworthy

Pool near Peck Farm
Almost covered with weed, apart from the area with ducks on the further side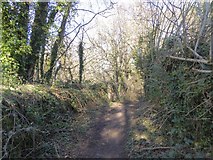 Track south towards Foxworthy
An old lane bounded by a hedgebank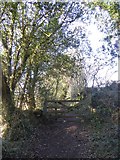 Gate in woodland on Hunters Tor

Bovey valley west of Hunters Tor
At the further side of the field is an upright stone; not marked on maps as a... more

Tree by path along west side of Hunters Tor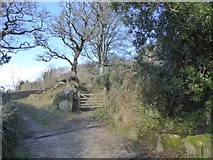 Field access and footpath gate at Foxworthy
On the right a spring has been piped to flow into a granite trough

River Bovey at Foxworthy Bridge

Foxworthy Bridge
Over the River Bovey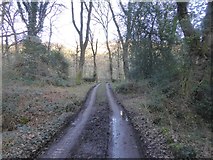 Private road to Foxworthy
The public footpath leaves this road by the gateposts and goes through the woods... more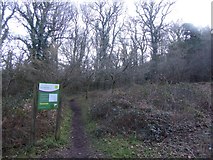 Path into nature reserve, Foxworthy

Hunters Tor from above Foxworthy

Former quarry above Foxworthy
Now overgrown with trees and scrub

Stream between Neadon and Foxworthy

Footpath in woods on Neadon Cleave

Scrubby woodland in Neadon Cleave

Stile into woods in Neadon Cleave

Tracks on the edge of Manaton
Straight ahead are paths into the Bovey Valley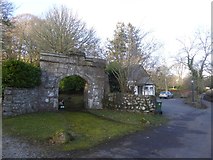 The archway, Manaton Gate
Impressive entrance, now by-passed, to a former rectory
All images © David Smith and available under a Creative Commons licence

.