Geo-Trips :: Riverside path with obstacles
Gelli Ddu / Black Covert
A walk from Gelli Ddu/Black Covert NRW car park, Thu, 19 Apr 2018 by Rudi Winter
A quick evening stroll from the National Resources Wales car park at Gelli Ddu/Black Covert near Trawsgoed. This is just a flat walk through mixed woodland by the side of the Afon Ystwyth. On this occasion, the path was blocked in several places because windblown trees were scattered throughout the forest. This necessitated a few detours to the edge of the woodlands, with views across farmland in the Ystwyth valley.
On the map below, the grey line is the GPS track from this trip. Click the blue circles to see a photograph taken from that spot and read further information about the location. The blue lines indicate the direction of view. There is also a slideshow of this trip. ( )
↓ Scroll down here ↓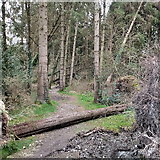 Fallen tree, Gelli Ddu/Black Covert
Gelli Ddu/Black Covert is a small patch of forest on the south bank of the Afon... more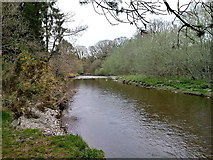 Afon Ystwyth, Gelli Ddu
The footpath through the woodland of Gelli Ddu is never far away from the river... more

Windblown trees, Gelli Ddu
There is quite some storm damage in this small woodland by the Afon Ystwyth, with... more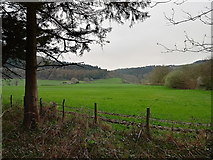 Pasture in the Ystwyth valley
Looking from the edge of Gelli Ddu/Black Covert, the narrow strip of woodland next... more

Pasture in the Ystwyth valley, Gelli Ddu
A bench is located on the edge of the Gelli Ddu/Black Covert woodland, overlooking... more

Boggy patch, Gelli Ddu
There are a few boggy patches inside Gelli Ddu/Black Covert, the narrow strip of... more
All images © Rudi Winter and available under a Creative Commons licence

.