Geo-Trips :: Across the fens
Guyhirn
A drive from Roxton, Sat, 12 Jan 2019 by David Howard
There was a pre-Worboys sign in Chatteris which was one of the last on my list to get. I worked out how long I needed to get there and back before it got dark, and as it was all major roads took the minimum expected and got as far as half way to Huntingdon before it was completely dark. It's an area I've barely visited, but fairly featureless as you'd expect with just wide flat fields, farms and typical East Anglian villages. But the sign was there and being early carried on to Guyhirn to cover some more territory to the north.
Click the blue circles to see a photograph taken from that spot and read further information about the location. The blue lines indicate the direction of view. There is also a slideshow of this trip. ( )
↓ Scroll down here ↓

Pre-Worboys direction sign on New Road, Chatteris
It's been nine years since this was taken here... more

Houses on March Road, Ring's End

March Road at the junction of the A605
In the middle of the Fens

March Road looking across the Fens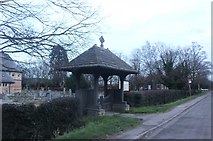 The entrance to St Mary's Church, Westry

Roundabout on Wisbech Road, Peas Hill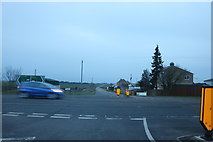 Crossroads on the A141 March Bypass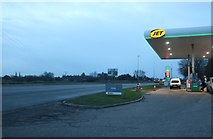 Petrol station on Wimblington Road, March

Mill Farm Cottage on Chatteris Road

Chatteris Road at the junction of High Street Somersham

Tree by Pidley Hill west of Somersham

High Street Pidley looking towards Warboys Road

Cottages on The Lane, Old Hurst

Junction on the A141, Old Hurst

Shell petrol station by the Stukeley Roundabout

TC Harrison Ford, Huntingdon
On Spittals Way by the Stukeley Roundabout

The A1 goes over the A14 at Brampton Cross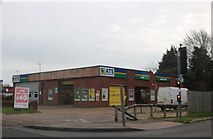 ATS on Nursery Road, Huntingdon

High Street Huntingdon
For the High Street of a county town it's really not that impressive but I only... more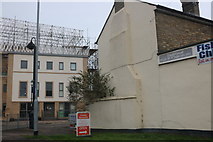 Walden Road at the junction of High Street Huntingdon
Hodsons fish and chips is on the right

Electricity pole on the A141 south of Warboys

Huntingdon Road entering Chatteris

BP garage on Huntingdon Road, Chatteris

Industrial site on Bridge Road, Chatteris

Shops on Park Street, Chatteris
I discovered afterwards I'd managed to capture the world famous (possibly not)... more

The Black Cat Roundabout, Roxton

Roundabout on the A14, Brampton
At the start of Thrapston Road

Roundabout on Thrapston Road, Brampton

Roundabout on Thrapston Road, Brampton

High Street Chatteris at the junction of New Road

Bungalow on Wisbech Road, Westry

Isle of Ely Way at the Peas Hill Roundabout

Fen Road, Guyhirn
It's flat as it's right in the middle of the Fens

Field by Isle of Ely Way, Doddington
All images © David Howard and available under a Creative Commons licence

.