Geo-Trips :: Wye Valley Walk (0)
Wye Valley Walk
A walk from Hafren Forest, Sat, 21 Apr 2012 by David Purchase
Between 2011 and 2015 a group of four walkers completed the Wye Valley Walk, from the source on Plynlimon (Pumlumon) to the sea at Chepstow. The first part of the walk was done in sets of (typically) three-day trips, but as we got near the end they became day trips from Bristol.
"Leg 0" was not part of the official route, and I did it on my own. I visited the source of the Severn, and got as close as I could to the source of the Wye (which is on very steep ground). These photos were the result.
This leg was 16 km long with 420 m of ascent.
Click the blue circles to see a photograph taken from that spot and read further information about the location. The blue lines indicate the direction of view. There is also a slideshow of this trip. ( )
↓ Scroll down here ↓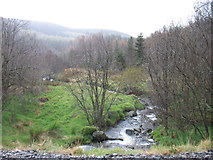 The River Severn
This photo, looking downstream, is taken about 2 kilometres below the source.

The upper River Severn
Here seen about a kilometre from its source.

The final stretch of the Severn Way
It is 'final', of course, only if you are going upstream, in which case the source... more

The summit of Carn Fawr
My GPS is on the nearby pillar because I contribute to a database which records... more

Bryn Cras
Bryn Cras is a very minor top just west of the main walk along the Punlumon ridge.

On the slopes of Pumlumon Arwystli

The source of the River Wye (Afon Gwy)
The actual source is tucked into the gully on the right. This was as near as I... more

The headwaters of the River Wye (Afon Gwy)
In this photo the source of the Wye is behind the photographer, and we are looking... more

A view towards the source of the River Wye
The actual source is in the deep cleft to the right of this photo, and the infant... more
All images © David Purchase and available under a Creative Commons licence

.