Geo-Trips :: The Cotswold Canals Walk, leg 3
The Cotswold Canals Walk
A walk from Ryeford, Tue, 19 Sep 2017 by David Purchase
Between 2012 and 2017 a group of four walkers completed the Thames Path from the Barrier to the source, in 22 legs. Why that way? Well, although uphill, a climb of 120m spread over that many days is not exactly arduous. I, for one, preferred a country to a city ending. And as we all came from the Bristol area, walking towards home was psychologically more satisfying.
When we reached the source (completely dry, as usual) we decided to extend the walk to include the Thames & Severn Canal walk (aka The Cotswold Canals Walk), which was fairly local for us. For me this had the advantage that I could complete my third continuous chain of squares 'from sea to shining sea', or more prosaically from tidal water in the North Sea to tidal water in the west. The others were Hadrian's Wall (another Geo-trip of mine) and a long chain from Aberystwyth to Lowestoft (completed over many years and not lending itself to a Geo-trip).
The Cotswold Canals Walk runs from Lechlade to the River Severn at Upper Framilode. It is 66 km long, most of which follows the route of the old Thames and Severn Canal, though the final stretch was known as the Stroudwater. However we had already walked from Lechlade to Thames Head on the Thames Path, and chose not to repeat that, even by a slightly different route. Instead we walked about 35 km from Kemble to the Severn, in 3 legs. For various reasons I was unable to photograph every square in the chain when we did the walk (especially on this leg), but this was local country and it was easy to revisit and fill in the gaps. But the Geo-trip rules do not allow for those photos to be included!
The third and final leg, 11 km, took us from Ryeford to Upper Framilode. We passed under the M5 by a pedestrian underpass near junction 13, and over the Gloucester and Sharpness Canal by a swing-bridge.
Click the blue circles to see a photograph taken from that spot and read further information about the location. The blue lines indicate the direction of view. There is also a slideshow of this trip. ( )
↓ Scroll down here ↓

Nutshell House and Bridge
On the Stroudwater Canal. The lady in the foreground drew our attention to a... more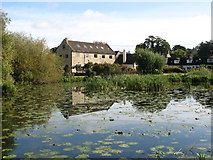 'The Ocean' on the Stroudwater Canal
At one time there was a large boatyard here. Obviously it was also a turning area... more

Bond's Mill Bridge
Bond's Mill bridge across the Stroudwater Canal was originally a swing bridge, but... more

Beside the River Frome
Following the Thames and Severn Way (aka the Cotswold Canals Walk) towards the... more
All images © David Purchase and available under a Creative Commons licence

.