Geo-Trips :: Walking west from Crickhowell (and back again)
The River Usk
A walk from Crickhowell, Sat, 14 Oct 2017 by David Purchase
A large group of walkers spent a weekend in Crickhowell. The main walk was to the north of the River Usk, via Cwmdu, and the easier walk was to the south: we all intended to meet at the pub in Llangynidr. Given ageing limbs, I opted for the easier walk. That was a mistake! After an hour or so I realised that the leader didn't actually know his route terribly well. In my younger days I might have tried to correct him, but not now: I just indicated that I was going to make my own way to Llangynidr. I arrived at exactly the same time as the main party, but the 'easier' group arrived about 45 minutes later.
Both groups planned to walk back along the Monmouthshire and Brecon Canal. I joined the 'main' group, as it returned an hour earlier.
Click the blue circles to see a photograph taken from that spot and read further information about the location. The blue lines indicate the direction of view. There is also a slideshow of this trip. ( )
↓ Scroll down here ↓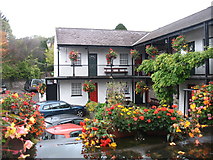 Courtyard of The Bear Hotel, Crickhowell

A rather pointless sign!
Anybody taking a three-ton vehicle down this track (which gets narrower and... more

Fields by the Usk Valley Walk
Like many of these so-called Valley Walks, the route often climbs high above the river.

The drive to Llwynon Farm
To the left is seen Crug Hywel (Table Mountain). As a Table Mountain, it seems to... more

St Cynidr & St Mary's church, Llangynidr

Farmland near Cyffredyn
Looking towards Tor y Foel [[SO1119]].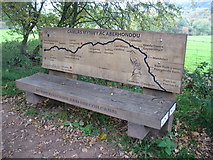 Bench beside the Monmouthshire and Brecon Canal
A really fine bench, with the route of the canal clearly delineated. (Note the... more

Walking beside the Monmouthshire and Brecon Canal
I find it intriguing that the bridge arch ahead is asymmetrical. Was this a... more

The Monmouthshire and Brecon Canal
A bridge across the canal, looking towards Brecon.
All images © David Purchase and available under a Creative Commons licence

.