Geo-Trips :: The Isles of Scilly (1) - St Mary's
Isles of Scilly
A walk from Hugh Town, St Mary's, Thu, 11 Apr 2013 by David Purchase
A six-day visit to the Isles of Scilly in April 2013 enabled me to visit all five inhabited islands. This first day was spent on the main island of St Mary's.
Click the blue circles to see a photograph taken from that spot and read further information about the location. The blue lines indicate the direction of view. There is also a slideshow of this trip. ( )
↓ Scroll down here ↓

Church Point, St Mary's
There is a small area of land in this square, just south of the main runway at St... more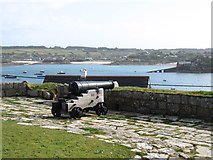 Hugh Town Battery
Looking across St Mary's Pool

The churchyard at Old Town, St Mary's
This is the churchyard in which Harold Wilson is buried.

Taylor's Island, St Mary's
Many small islands in the Scillies are, like this one, tidal: that is, cut off at... more

Toll's Porth and Creeb, St Mary's
The wooded island in the distance is Tresco.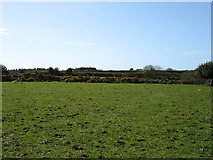 Fields near Borough, St Mary's

Watermill Cove, St Mary's
Looking towards the Eastern Isles. The short stream here is fertile, but not very... more

The East Point of Toll's Island
Toll's Island is a tidal island on the east of St Mary's.

On the north side of Toll's Island
Toll's Island is a tidal island on the east side of St Mary's. The Eastern Isles... more

Pelistry Bay, St Mary's
Taken near to low tide, the bar connecting Toll's Island to St Mary's is seen on... more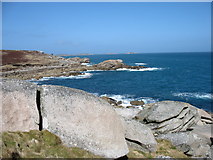 Porth Wreck, St Mary's
The Eastern Isles are on the horizon.

Tom Butt's Bed, St Mary's
Between Porth Loggos and Church Point, this does not look like a very comfortable... more
All images © David Purchase and available under a Creative Commons licence

.