Geo-Trips :: The Isles of Scilly (5) - Crow Sound and Bryher
Isles of Scilly
A boat trip from Hugh Town, St Mary's, Mon, 15 Apr 2013 by David Purchase
A six-day visit to the Isles of Scilly in April 2013 enabled me to visit all five inhabited islands. The fifth day was spent mainly on a boat trip from Hugh Town into Crow Sound and north through St Helen's Pool to Round Island, followed by a short walk on Bryher, the smallest of the inhabited islands.
Click the blue circles to see a photograph taken from that spot and read further information about the location. The blue lines indicate the direction of view. There is also a slideshow of this trip. ( )
↓ Scroll down here ↓

Skirt Island
Although called an island, Skirt Island normally remains joined to Tresco even at... more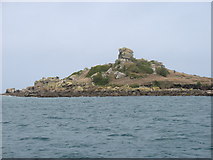 Northwethel
Northwethel is a small uninhabited island north of Tresco.

Hedge Rock
A small islet just south of Tean.

Tean
Tean is now uninhabited. The remains of the former chapel are in the foreground.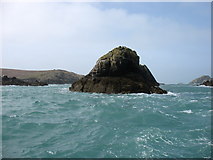 Camber Rock
In the days when the lighthouse on Round Island was supplied by sea, Camber Rock... more

Men-a-vaur
A very impressive group, actually three rocky islets close together, to the... more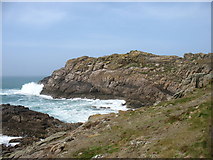 Shipman Head, Bryher
Shipman Head is technically a tidal island, cut off from Bryher at high tide but... more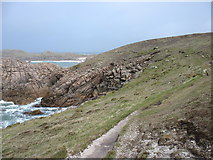 The coast path on Bryher
Here traversing below Shipman Head Down.

Posts and stones by the Bryher coast path!
On some of the smaller islands of the Scillies, it is common to see piles of... more

The south end of Gweal, seen from Bryher
Gweal is a small (400 by 200 metres) uninhabited island just west of Bryher.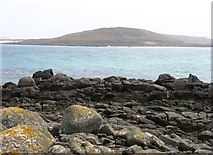 North Hill, Samson
Seen from Middle Colvel Rock, Bryher.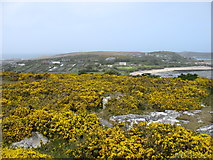 The Town, Bryher, from Samson Hill

Hangman Island from Watch Hill, Bryher
Hangman Island is on the right, close inshore to Bryher. Cromwell's Castle on... more
All images © David Purchase and available under a Creative Commons licence

.