Geo-Trips :: The Isles of Scilly (6) - St Martin's
Isles of Scilly
A walk from Higher Town, St Martin's, Tue, 16 Apr 2013 by David Purchase
A six-day visit to the Isles of Scilly in April 2013 enabled me to visit all five inhabited islands. This final day was spent on St Martin's, the inhabited island nearest to the mainland.
Click the blue circles to see a photograph taken from that spot and read further information about the location. The blue lines indicate the direction of view. There is also a slideshow of this trip. ( )
↓ Scroll down here ↓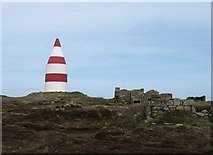 The Daymark on St Martin's
This large structure was built to aid navigation, as it could be seen from many... more

St Martin's Head
In the distance on the right is White Island [[SV9217]]. As the tide is in, it is... more

Murr Rock from Turfy Hill
Murr Rock is on the left. The St Martin's Daymark [[3446399]] is clearly seen to... more

St Martin's church
I understand that this is the only church on the 'off islands' (i.e., all the... more

The East Window of St Martin's church

The summit of Top Rock Hill, St Martin's
Looking out towards Pernagie Isle and Lion Rock, both in [[SV9117]].

White Island
At high tide, White Island is cut off from St Martin's (see [[3446405]]), but at... more

Plumb Island, Pernagie Isle and Lion Rock
These are all small islets off the north-west coast of St Martin's. Plumb Island... more

The beach at Lower Town, St Martin's

Lower Town Quay, St Martin's
Lower Town Quay is used only at low water. A new quay at Higher Town is used when... more

Guther's Island
Guther's Island is between St Martin's and St Mary's.
All images © David Purchase and available under a Creative Commons licence

.