Geo-Trips :: Shetland (3) - Saxa Vord and Skaw
Unst, Shetland
A walk from Haroldswick, Sun, 5 Jun 2016 by David Purchase
This was my second day on Unst. The trip is actually two walks, one on the slopes of Saxa Vord and the other near Skaw to see Britain's most northerly house. A few of these photos were taken when driving rather than walking.
Click the blue circles to see a photograph taken from that spot and read further information about the location. The blue lines indicate the direction of view. There is also a slideshow of this trip. ( )
↓ Scroll down here ↓

The slopes of Saxa Vord
The Hill of Clibberswick [[HP6612]] is in the distance, right.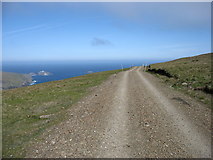 Track on the west of Saxa Vord
Muckle Flugga and Out Stack in the distance on the left.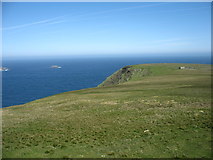 The northern slopes of Saxa Vord

Track and hillside north of Saxa Vord

The west slopes of Sothers Field
Looking to Burra Firth and the Hermaness Nature Reserve.

The road to Saxa Vord
The road is not a public road but is de facto open until about 50 metres below the summit.

The southern slopes of Sothers Field

The Saxa Vord road
Looking back towards Valsgarth.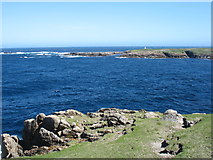 The Holm of Skaw from Houlls-nef
To the right of the picture is the cave marked on the Explorer map.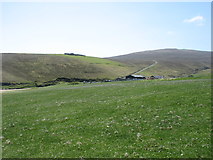 The Haa, Skaw
The most northerly house in Britain.

Britain's most northerly beach
At Wick (Bay) of Skaw.

The track to Lamba Ness
This peninsula formerly housed RAF Skaw.

Down to the Sands of Inner Skaw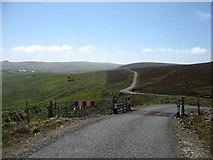 The Holsens Road
This road (behind the camera) leads to Skaw, Britain's most northerly house. This... more

Norwick Bay
The road (the Skaw Road) cutting across above the houses was closed in about 2002... more
All images © David Purchase and available under a Creative Commons licence

.