Geo-Trips :: Shetland (4) - North-east Unst
Unst, Shetland
A walk from Norwick, Mon, 6 Jun 2016 by David Purchase
My third day on Unst. Actually two walks, one starting at Norwick for the Hill of Clibberswick, and the other near Baltasound for Keen of Hamar, with some 'road squares' between the two.
Click the blue circles to see a photograph taken from that spot and read further information about the location. The blue lines indicate the direction of view. There is also a slideshow of this trip. ( )
↓ Scroll down here ↓

North slopes of the Hill of Clibberswick

Rocks at Ruecok
The headland of Lamba Ness in the distance.

Hill of Clibberswick summit
The sheep seem very content, even though they are grazing only a few metres from a... more

Western slopes of Hill of Clibberswick
Looking towards the small village of Haroldswick, by the shore on the left.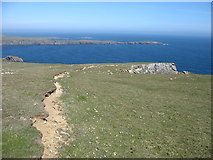 Landslip danger ahead!
Even quite far in from the cliff edge on Hill of Clibberswick there is clearly a... more

Towards the Horns of Hagmark
This piece of landslip would appear to be fairly recent.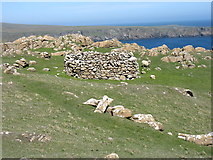 Circular enclosure on Hill of Clibberswick
I found several enclosures like this in the vicinity. I was a bit puzzled as they... more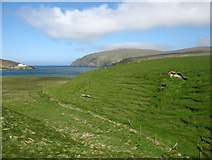 Country at Burrafirth
Looking to the firth, with Saxa Vord just in cloud to the right.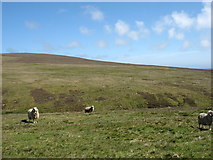 The slopes of Housi Field
Seen across the Burn of Sulerdale.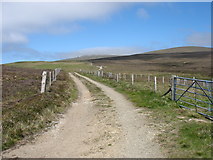 The track to Buel Houll
Saxa Vord, in light cloud, ahead.

Loch of Cliff, eastern arm
On the map, Loch of Cliff (nearly 4 kilometres long) resembles a tall, thin man... more

Country near Stove
The Heog hills beyond.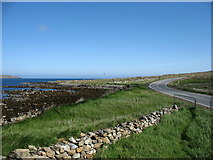 The A968 heading south
Well, it has to head south, really. This, Britain's most northerly A road, ends... more

Replica Viking Longhouse at Haroldswick
Part of the replica longship can be seen beyond the house. These replicas are open... more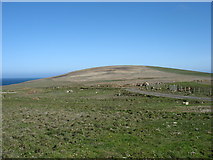 Approaching Horse Mill
Although this former quarry (perhaps 'mine' would be a better word) is signed from... more

The north slopes of Keen of Hamar
Looking past Skeggie Point to Clibberswick village and hill on the far side of... more

The summit of Keen of Hamar
This National Nature Reserve has high-altitude features, yet is only 89m above sea level!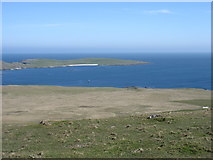 Southern slopes of the Keen of Hamar
Looking across to the south end of Balta Island, in [[HP6507]]. There is a beacon... more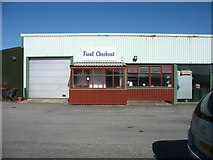 Britain's most northerly shop
Several contributors have commented on this name. But there are no shops north of... more
All images © David Purchase and available under a Creative Commons licence

.