Geo-Trips :: Shetland (7) - Walks on East and West Burra and nearby islands
East and West Burra, Shetland
A walk from Houss, East Burra, Thu, 9 Jun 2016 by David Purchase
East and West Burra are islands off the west coast of south Mainland, and are connected to it by narrow bridges. This trip was actually three separate walks with short drives between them.
Click the blue circles to see a photograph taken from that spot and read further information about the location. The blue lines indicate the direction of view. There is also a slideshow of this trip. ( )
↓ Scroll down here ↓

The northern part of Houss Ness
From the summit of Ward of Symbister.

The southern part of Houss Ness
Seen from just south of the summit of Ward of Symbister.

A useful stile on Houss Ness
Perhaps of more use to sheep, as a scratching post, than to walkers.

The lane from Houss
A short distance behind the camera, this lane comes to an end. There is no parking... more

Mill Loch reservoir, East Burra
The dam (on the left) has pretty well crumbled away and this is back to being a... more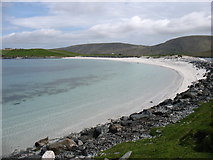 The bay of Banna Minn
One of those nice linking barriers between Shetland islands, although this one... more

Cliffs on Kettla Ness
Quite impressive coastline, with the cairn on The Ward (the highest point of... more

Cliffs on the west side of Kettla Ness
It looks as though there will soon be another landslide on this dramatic coast.

Kettla Ness
The southern half of the island is unspoilt and very beautiful.

At Gossigarth on Kettla Ness
Looking towards Banna Minn and Duncansclett.

Duncansclett village, West Burra
A pleasant spot which seems to be fairly well sheltered.

The lane to Bridge End
Leading to Trondra, and then Shetland Mainland, via two rather narrow bridges.

Bridge End Kirk, West Burra
There must be some doubt as to which side of the "37" grid line this... more

Bridge End Marina. West Burra
A popular little spot with an Outdoor Centre as well.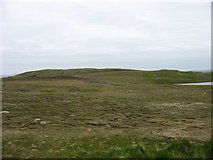 The Alter, West Burra
A low hill just north-west of Bridge End.
All images © David Purchase and available under a Creative Commons licence

.