Geo-Trips :: Shetland (8) - A walk round Fair Isle
Fair Isle
A walk from Fair Isle airstrip, Fri, 10 Jun 2016 by David Purchase
I spent a day on Fair Isle, flying in from Tingwall (near Lerwick) and back the same day (half hour flights). I climbed Ward Hill and then walked south on the west side of the island with its dramatic cliff scenery, coming back to the airstrip along the road. The only part of the island I did not visit was the Bird Observatory, which very sadly was destroyed by a fire on 10 March 2019, by coincidence just three days before I established this Geo-trip.
Fair Isle gave me Myriad HZ. Just HT to go!
Click the blue circles to see a photograph taken from that spot and read further information about the location. The blue lines indicate the direction of view. There is also a slideshow of this trip. ( )
↓ Scroll down here ↓

The middle of the Fair Isle landing strip
Flight DFL002 for Tingwall had just departed, and the next flight wasn't due to... more

Looking to Ward Hill, Fair Isle
From near the transmission station. The two diagonal lines are clearly the routes... more

The north east of Fair Isle
The North Light in the distance.

The trig point on Ward Hill
This makes the hill look a pleasant spot. But the summit area, off to the right of... more

Western Fair Isle
Seen from near the summit of Ward Hill.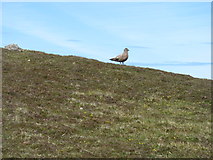 An unaggressive Bonxie
I was rather surprised that this bonxie did not circle above my head and try to... more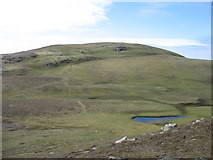 Burrashield Hill
Although one can argue about "What is a hill?", I think there are five... more

Troila Geo, Burrashield
One of many Geos (steep inlets) on the west coast of Fair Isle.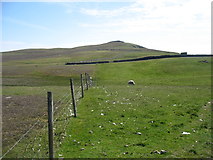 Vaasetter Hill, Fair Isle
Vaasetter Hill, 110m, is the rounded light-coloured hill straight ahead. It is a... more

Stonybreck, Fair Isle
Malcolm's Head, 107m, beyond.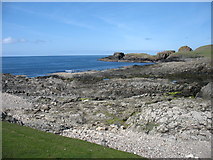 The Wick (Bay) of Hestigeo
At the far south of Fair Isle, near the South Light.

Malcolm's Head
At 107m, Malcolm's Head is the fifth highest hill on Fair Isle, after Ward Hill... more

The gorge of Gilsetter Burn
Falling to the east coast of Fair Isle, with South Gavel on Bu Ness beyond. It had... more
All images © David Purchase and available under a Creative Commons licence

.