Geo-Trips :: Shetland (10) - The island of Whalsay
Whalsay, Shetland
A drive from Laxo (Mainland), Mon, 13 Jun 2016 by David Purchase
We skip ahead two days. What I did on June 12 I cannot recall, but I submitted only two photos which does not make a Geo-trip.
Whalsay is a moderate-sized Shetland island, north-east of Mainland and SSE of Yell. It is normally approached from Laxo (crossing time 30 minutes), but sometimes the weather forces a crossing from Vidlin, a longer route. I decided that I needed my car on Whalsay, and that certainly gave me many more photographic opportunities. There was one short walk (to Ward of Clett, the island's high point), but this was really a road trip.
There are two photos which are long-distance Cross-grids (one of Muckla Billan and the other of Noss Head). I do not normally submit such photos, but these seemed of sufficient interest to include.
Click the blue circles to see a photograph taken from that spot and read further information about the location. The blue lines indicate the direction of view. There is also a slideshow of this trip. ( )
↓ Scroll down here ↓

The Whalsay ferry, MV Linga, at Laxo
Ferries to Whalsay normally leave from Laxo and take 30 minutes. In certain... more

Hamera Head
Seen from the Whalsay ferry.

Cliffs at Levaneap
Seen from the Whalsay ferry.

The Whalsay ferry, MV Linga, leaving Symbister pier
Bound for Laxo on Shetland Mainland.

Southern Whalsay
Looking from near the summit of Ward of Clett across to the uninhabited islet of... more

The summit of Ward of Clett, Whalsay
Well, this is what everyone would think is the summit. But the purists maintain... more

Descending to Clate
On the way down from Ward of Clett, the highest point on Whalsay.

Muckla Billan
In this photo taken from the south of Whalsay, the cliffs at Noss Head, 20km... more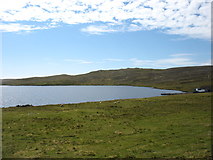 Loch of Huxter, Whalsay
One of four lochs on Whalsay of similar size. I would estimate that this is the largest.

The valley of the Falsa Burn
Looking out to sea from near Huxter. I suspect that, had the weather not been so... more

Approaching Isbister, Whalsay
The Out Skerries are on the horizon.

Country near Isbister
At sea, left to right, are the islets of Nista, Mooa and Isbister Holm, with the... more

The Houll, Whalsay
Probably usually very damp.

East Loch of Skaw, Whalsay
An airstrip, now almost never used, is just to the right of this photo.

Whalsay Golf Club
Britain's most northerly Golf Club. It looked like the sort of course where you... more

Country near Skaw, Whalsay
The foreground is, perhaps, not very interesting. But this gave me my best view on... more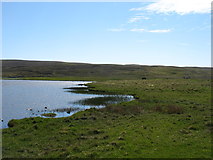 The west shore of Loch Vats-houll, Whalsay

Whalsay Kirk and graveyard
The Kirk stands on Kirk Ness, a small islet joined to Whalsay by one of Shetland's... more

Houb and Suther Ness, Whalsay
Suther Ness, with its beacon, is connected to the mainland of Whalsay. But you... more

Approaching Symbister, Whalsay
A rare stretch of road on Whalsay which does not need passing places!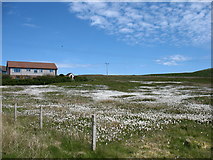 A field at Marrister, Whalsay
Daisies in profusion.

North Voe, Symbister, Whalsay
Is there a South Voe? Not on the map, but I could well imagine that the harbour... more

Noss Head
Seen from the Whalsay ferry en route between Symbister and Laxo. I do not... more
All images © David Purchase and available under a Creative Commons licence

.