Geo-Trips :: Shetland (11) - Walks on Muckle Roe
Muckle Roe, Shetland
A walk from Muckle Roe bridge, Tue, 14 Jun 2016 by David Purchase
Muckle Roe is an island, about 5 km (3 miles) in diameter, on the west coast of Shetland Mainland, to which it is connected by a short bridge.
This trip comprises two walks with short car journeys between them and after the second. The first walk was to Mid Ward (the highest point on the island) and the second to the Hole of Hellier.
Click the blue circles to see a photograph taken from that spot and read further information about the location. The blue lines indicate the direction of view. There is also a slideshow of this trip. ( )
↓ Scroll down here ↓

The summit of Mid Ward
At 172m, Mid Ward is the highest point on Muckle Roe. Ronas Hill (the highest hill... more

The north-east slopes of Mid Ward

North-west slopes of Mid Ward
Mid Ward is the highest hill on Muckle Roe.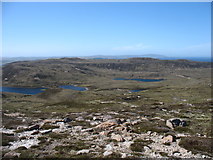 Burki Waters
From the slopes of South Ward on Muckle Roe.

South-east slopes of South Ward, Muckle Roe

Roe Sound and Gossaford Hill
Taken from Muckle Roe. Gossaford Hill is a 104m hill overlooking Busta.

Little-ayre, Muckle Roe
This is the end of the public road on the island.

Muckle Ayre bay, Muckle Roe
Seen from the path to the lighthouse

The Burki Skerries
Looking across to the east end of the island of Vementry.

The Hole of Hellier, Muckle Roe
I am fairly sure that this is the "hole", although some appear to attach... more

The "minor light" on Muckle Roe
This is usually described as a lighthouse, though clearly it has never... more

The track to Burki Waters, Muckle Roe
The hill of Cumle is seen on the right.

The coastline at Knowe, Muckle Roe
Much of the island of Linga [[HU3563]] can be seen beyond.

Muckle Roe cemetery
Looking towards the transmission mast on Steinawall.

Geograph-ers are clearly suspicious!
They need to be viewed with great caution until they go away. The southern end of... more

Orwick Water, Muckle Roe
Looking towards the transmission mast on Steinawall.

North-east Muckle Roe
Most of the few houses on the island are in this sheltered corner. A rock called... more

The Muckle Roe bridge
This is looking back from the island to Shetland Mainland. An older bridge (there... more
All images © David Purchase and available under a Creative Commons licence

.