Geo-Trips :: Shetland (12) - Fitful Head and Sumburgh
South Mainland, Shetland
A walk from Quendale, Wed, 15 Jun 2016 by David Purchase
This visit to the south of Shetland Mainland was actually two walks, one to Fitful Head and the other to Sumburgh Head, with a short drive between them. There was a further Geo-trip on the same day, but as you will see it had to be kept separate!
Click the blue circles to see a photograph taken from that spot and read further information about the location. The blue lines indicate the direction of view. There is also a slideshow of this trip. ( )
↓ Scroll down here ↓

The bend in the track
There is a well-graded track up to the communications masts on Fitful Head.... more

Cliffs at The Nev, north of Fitful Head

The track from Fitful Head
A well-graded track serves the communications station on Fitful Head. Clearly, it... more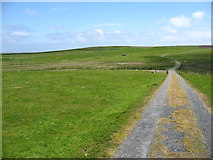 The track from Fitful Head
Looking east towards Gord Farm and Quendale. The public are not allowed to... more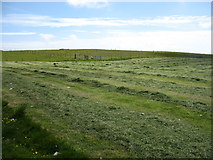 Drying the hay at Gord Farm
At least two weeks of dry weather must have been very welcome. And another week,... more

Loch of Hillwell
Electricity power cables may not be among the most attractive items in rural areas... more

West Voe of Sumburgh
Seen from just above Jarlshof.

Sundial at Sumburgh Head
A fine pillar, but the dial itself is rather standard. However, visitors (such as... more

The "minor light" from Muckle Roe
This "minor light" was on Muckle Roe until 2001, when it was replaced by... more

Compass Head, Sumburgh
Looking north along the east coast of the southern part of Shetland Mainland.

Fields west of Bigton
Looking towards Ireland. No, not the country, just a small village in southern... more

The tombolo to St Ninian's Isle
Looking into the sun. Unfortunately, I did not have time to walk out to the island itself.
All images © David Purchase and available under a Creative Commons licence

.