Geo-Trips :: A short walk at Rodel Harbour
Outer Hebrides (Na h-Eileanan an Iar) [2]
A walk from Rodel, Sun, 30 May 2010 by David Purchase
In the first half of June 2010 I visited the Outer Hebrides. I had only recently joined Geograph, and so my photos were not always in an ideal order for a Geo-trip. But I knew enough to realise that I could get some Firsts!
The visit was broadly north to south, from Lewis to Barra, and so they are presented here as a series.
This first trip was actually in very late May. In the morning I had climbed Mealisval, and this afternoon was just a short walk near Rodel at the extreme south of Harris.
Click the blue circles to see a photograph taken from that spot and read further information about the location. The blue lines indicate the direction of view. There is also a slideshow of this trip. ( )
↓ Scroll down here ↓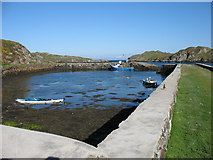 Rodel harbour
Rodel is almost at the southernmost point of the Isle of Harris. At the time of... more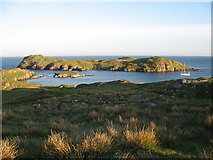 Ballay island
Ballay (Bhalaigh) basks peacefully in the evening sun. It is not always like this!

St Clement's Church, Rodel
Or, to put it in the local language, Tur Chliamainn, Roghadail.
All images © David Purchase and available under a Creative Commons licence

.