Geo-Trips :: A visit to Great Bernera
Outer Hebrides (Na h-Eileanan an Iar) [11]
A walk from Bostadh, Great Bernera, Sat, 5 Jun 2010 by David Purchase
In the first half of June 2010 I visited the Outer Hebrides. I had only recently joined Geograph, and so my photos were not always in an ideal order for a Geo-trip. But I knew enough to realise that I could get some Firsts!
The visit was broadly north to south, from Lewis to Barra, and so they are presented here as a series.
This was my second trip of the day. It was mostly a walk from Bostadh on Great Bernera, but some photos were taken on the island while driving there and back.
Click the blue circles to see a photograph taken from that spot and read further information about the location. The blue lines indicate the direction of view. There is also a slideshow of this trip. ( )
↓ Scroll down here ↓

Great Bernera Memorial Cairn
This cairn was erected in 1992 to commemorate the Bernera Riot of 1874, which... more

The inscription on the Bernera Cairn
This plaque does not seem to be wearing very well, so perhaps a record on the... more

Middle Shalaval, Great Bernera
Great Bernera is a large island on the west side of the Isle of Lewis which has... more

Bearasaigh and Seanna Chnoc
Bearasaigh (58m) is the nearer island, with Seanna Chnoc (about 93m) in the... more

The North Top of Middle Shalaval
The North Top of Shalaval, seen from the summit. The island in the distance is... more

By Loch a'Sgail: is he quite safe?
Fortunately, despite appearances, he was quite placid.

Ruined Blackhouse near Bostadh, Great Bernera

Seanna Chnoc (Seana Bheinn) behind Bearasaigh
A tempting island north-west of Great Bernera which I have not yet visited. Seanna... more

Little Bernera
This view of Little Bernera (Bearnaraigh Beag) is taken from the northern shore of... more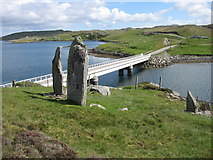 The old and the (fairly) new
These standing stones overlook the bridge to Great Bernera, opened in 1953 but... more

Bernera Bridge plaque
The Bernera Bridge, connecting Great Bernera to the mainland of Lewis, was opened... more
All images © David Purchase and available under a Creative Commons licence

.