Geo-Trips :: A short walk on South Harris
Outer Hebrides (Na h-Eileanan an Iar) [13]
A walk from Loch Fionnsabhagh, Sun, 6 Jun 2010 by David Purchase
In the first half of June 2010 I visited the Outer Hebrides. I had only recently joined Geograph, and so my photos were not always in an ideal order for a Geo-trip. But I knew enough to realise that I could get some Firsts!
The visit was broadly north to south, from Lewis to Barra, and so they are presented here as a series.
This fairly short walk gave me my 9th and 10th Firsts.
Click the blue circles to see a photograph taken from that spot and read further information about the location. The blue lines indicate the direction of view. There is also a slideshow of this trip. ( )
↓ Scroll down here ↓

The new bridge at Liceasto
The 'Golden Road' connecting the communities on the east side of South Harris was... more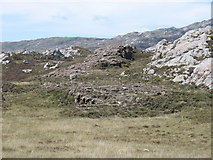 Above Loch Huamnavat
This outcrop of darker rock made it much easier to walk towards my target 'first... more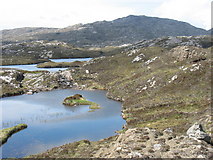 Loch Malcolm
In a gridsquare with as many small lochans as this one, it is difficult to be... more

Upper Loch Malcolm
Though I may have been able to secure the first Geograph for this square, it is... more

Airigh Neill
A remote part of South Harris; there are many small lochans here, but I managed to... more

Outfall from Upper Loch Malcolm
Upper Loch Malcolm [my name] is just a few metres distant from, and higher than... more
All images © David Purchase and available under a Creative Commons licence

.