Geo-Trips :: Climbing Maireaval, North Uist
Outer Hebrides (Na h-Eileanan an Iar) [15]
A walk from a minor road on North Uist, at NF7970, Tue, 8 Jun 2010 by David Purchase
In the first half of June 2010 I visited the Outer Hebrides. I had only recently joined Geograph, and so my photos were not always in an ideal order for a Geo-trip. But I knew enough to realise that I could get some Firsts!
The visit was broadly north to south, from Lewis to Barra, and so they are presented here as a series.
This walk gained me another Marilyn. At the time I thought that I had reached the highest point of North Uist (a stupid misreading of the map). Two days later I did reach that high point (Eaval), but with only one photo NF8960 : Eaval summit, looking to the south-west cairn it did not justify a Geo-trip!
Click the blue circles to see a photograph taken from that spot and read further information about the location. The blue lines indicate the direction of view. There is also a slideshow of this trip. ( )
↓ Scroll down here ↓

A plantation on Maireaval, North Uist
Plantations are relatively rare on North Uist. Judging by the poor state of these... more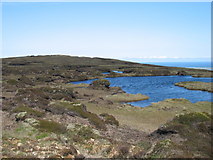 Beinn Aulasaraigh
Seen from the slopes of Maireaval.

The summit trig point on Maireaval

Lochan on the upper slopes of Maireaval

The north-east slopes of Maireaval, North Uist

The south-east slopes of Maireaval, North Uist

The southern slopes of Maireaval, North Uist

Guala na h-Imrich
This 114m hill is a very minor outlier to the WSW of Maireaval, North Uist.
All images © David Purchase and available under a Creative Commons licence

.