Geo-Trips :: The Speyside Way from Cragganmore to Carron
Speyside
A walk from Cragganmore, Tue, 3 Dec 2019 by Anne Burgess
As it was the dead of winter we decided to stay on low ground and a well-made path, so we opted for the section of the Speyside Way north of Ballindalloch. This follows the former Strathspey Railway all the way, making for easy level walking. At some points it is even quite close to the river, so you see more of the river than on the sections further south. The light began to fail at Carron, which is why the photos stop at Carron although we carried on to Aberlour.
Click the blue circles to see a photograph taken from that spot and read further information about the location. The blue lines indicate the direction of view. There is also a slideshow of this trip. ( )
↓ Scroll down here ↓

The Old Granary
Now called the Old Granary, this was built about 1863 as a goods shed for... more

Strathspey Railway
This is the trackbed of the Strathspey Railway, now part of the Speyside Way.

Bracket Fungi
I think it might be Fomes fomentarius syn Ungulina fomentaria. The Latin adjective... more

Allt a' Gheallaidh
This is the last few yards of Allt a' Gheallaidh before it meets the River Spey. I... more

Allt a' Gheallaidh
Looking upstream from the bridge that carries the Speyside Way acoss the burn. In... more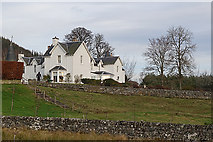 Pitchroy Lodge
A shooting lodge built about 1895, with additions about 1930.

Riverwood House
At least I think that is its name. On the older maps it is marked as Gortons Cottages.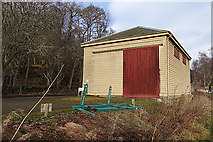 Shed at Blacksboat
Outside the shed are three broken waymarkers, and there are more on the other side... more

Fishing Hut
Closed for the winter, and awaiting the opening of the salmon fishing season on 11... more

Haugh by the Spey
A haugh is a water-meadow, and the railway builders wisely chose a route along the... more

Cally Burn
This is the last few yards of the Cally Burn before it meets the Spey, viewed from... more

Rowan Berries
Yellow rather than scarlet, but providing a splash of colour in the grey winter landscape.

Dalbeallie
The station that is now called Tamdhu was originally called Dalbeallie after this... more

Dalbeallie
The traditional stone farm house, viewed from the Speyside Way.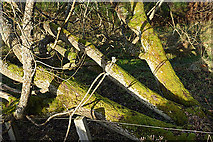 Three Trunks
A trio of moss-covered tree trunks, lying almost horizontal.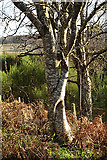 Forever Entwined
I can't quite make up my mind whether this is one tree that has divided and then... more

Bankhead Cottage
The Speyside Way rejoins the public road for a short distance here.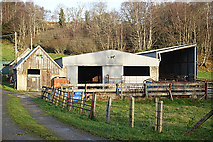 Barns and Byres
Several generations of sheds at a farm unnamed on the maps.

Carron Station
Instantly recognisable because of its similarity to other buildings along the line... more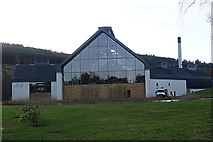 Delmunach Distillery
The Imperial Distillery, which stood on this site, was demolished in 2013 and... more
All images © Anne Burgess and available under a Creative Commons licence

.