Geo-Trips :: Exploring Gleann Chliostair
North Harris
A walk from Loch Leosaid, Sat, 29 May 2004 by Nigel Brown
Exploring a good path up a glen which cuts through the superb hills of North Harris. If we'd have gone further we'd have reached the renowned overhanging cliff of Sròn Uladail, and the wilderness country north of there, but time was not on our side. But still a very enjoyable walk in a place which has an atmosphere all of its own.
Click the blue circles to see a photograph taken from that spot and read further information about the location. The blue lines indicate the direction of view. There is also a slideshow of this trip. ( )
↓ Scroll down here ↓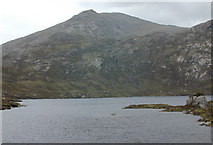 Loch Chliostair
Tirga Mor rises beyond.

Gleann Chliostair
Looking down to Loch Chliostair.

Loch Aiseabhat
View from south end, by the ford over the outflow.

The head of Gleann Uladail
Easily reached by the superb path.

North end of Loch Aiseabhat
Oireabhal is the summit in the distance.
All images © Nigel Brown and available under a Creative Commons licence

.