Geo-Trips :: Shiant Islands from Bornesketaig
Shiant Islands
A boat trip from Bornesketaig, Sat, 28 Sep 2013 by Toby Speight
This is a trip that I attempted about a month ago, when I managed only about 2km before I turned back in scary waves. I did get rewarded with my first ever sighting of a basking shark on my way back, so not a completely wasted day!
I set off from the small sheltered pier at Bornesketaig (Borgh na Sgiotag) and struck out directly for An t-Iasgair, the Fisherman. I got a good close-up shot from right amongst the rocks, then made for Eilean Trodday, where the northern two squares needed de-greening. It was there that I discovered I'd left behind near-essential Geographing kit, my hit-list. I'd updated my GPS in a hurry, unaware that the green squares list hadn't properly downloaded (and hadn't failed my build script - oops). So I'd be relying on memory and guesswork for the next couple of days.
A trip over to Comet Rock (which I discovered after uploading that it occupies a very lonely hectad all alone) was my only distraction on the paddle north to the Shiants - well, that and all the beautiful scenery surrounding me. The water and air were both absolutely still and the crossing was like a dream.
Arriving at the Shiants, I photographed Sgeir Mianais, then made camp on Eilean an Tigh. Heading over to Lewis tomorrow!
On the map below, the grey line is the GPS track from this trip. Click the blue circles to see a photograph taken from that spot and read further information about the location. The blue lines indicate the direction of view. There is also a slideshow of this trip. ( )
↓ Scroll down here ↓

An t-Iasgair
A fissure has been widened to form a natural window through this rock.

Sentinel
A quite phallic rock similar to many named Buachaille (herdsman) along the west... more

A corner of Trodday
Rocks meet the sea; in the background is northern Skye and An t-Iasgair.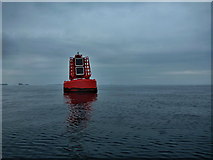 Comet Rock buoy
This buoy delineates the northbound shipping lane through the Little Minch; the... more

Sgeir Mianais
Cormorants line the rock where it meets the sea. In the background stand the... more
All images © Toby Speight and available under a Creative Commons licence

.