Geo-Trips :: Holme Valley Circuit
Holme Valley
A walk from Digley Reservoir, Fri, 26 Jun 2009 by Chris Wimbush
...walk to collect green squares.
On the map below, the grey line is the GPS track from this trip. Click the blue circles to see a photograph taken from that spot and read further information about the location. The blue lines indicate the direction of view. There is also a slideshow of this trip. ( )
↓ Scroll down here ↓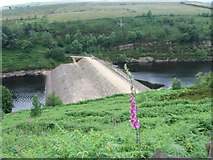 Bilberry Reservoir and Digley Reservoir

Across Dobb Dike to White Gate

Footpath towards Royd House Wood
All images © Chris Wimbush and available under a Creative Commons licence

.