Geo-Trips :: Day 1 of 2 exploring the moors of the Migneint
Western Migneint - day 1 of 2
A walk from Uwch-Mynydd farm , Sat, 12 Jul 2014 by Richard Law
The morning of this Saturday was spent fooling around in a (slowly deflating) rubber canoe, bagging a long-overdue First in the middle of Trawsfynydd reservoir. Once that little escapade was over & done with, we repaired to the hills for some 'proper' Geographing.
So, this is a short afternoon walk of slightly less than 4 miles, to get ourselves ensconced in the deep moors of the western Migneint. The Migneint is a wild, wet moorland, completely uninhabited by humans, and with very few sheep by Welsh hill standards. The heather is deep, the bogs are wet, the grass is long and there are practically no paths. In damp, muggy weather itíll be wall-to-wall midges and mosquitoes. Sounds great, doesnít it? In good, dry weather, or in a long freeze, itís actually reasonable ground, but walkers do have to be prepared for tough going, and even the fit would struggle to comfortably do much more than 15 of these miles in a day, especially carrying camping gear.
On the map below, the grey line is the GPS track from this trip. Click the blue circles to see a photograph taken from that spot and read further information about the location. The blue lines indicate the direction of view. There is also a slideshow of this trip. ( )
↓ Scroll down here ↓

The upper fridd wall of Taihirion
A well-built drystone wall bounding the upper edge of the enclosed grazings for... more

Drystone wall on the moors of Mochowgryn
An old wall, but one that peters out in a couple of hundred yards.

The valley of the Nant yr Achub
The small stream in the dip about 20 yards away drains the southern slopes of Mochowgryn.

Fence junction east of Mochowgryn
Rough heather moorland everywhere you look. We spent the next 15 miles ploughing... more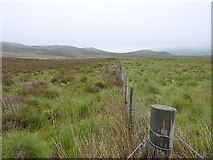 Boundary fence running downhill

Boundary fence running up into the hills

Summit cairn - Mochowgryn
A small cairn on the 496m summit of this hill.

The western Migneint
A view of the wild, open, pathless moors of the western Migneint. This is properly... more

The upper Nant Gwyn
A stream draining moorland to the west of Arenig Fach, which in due course becomes... more

Arenig Fach from the Nant Gwyn
We picked a fairly dry spell to walk these moors, so the streams weren't... more

Mochowgryn from the north
Back across the moorland towards Mochowgryn.

County boundary fenceline
On the old boundary of the counties of Meirionydd and Denbighshire, which is... more

Old shepherd's shelter on the moors
One of many such small 'bothies' that are scattered about these hills; this one... more

Spot height 457m
The spot height of 457m lies somewhere in the rather featureless moor ahead.... more

The Afon Serw
Slowly meandering its way through the peaty ground of the western Migneint moors,... more
All images © Richard Law and available under a Creative Commons licence

.