Geo-Trips :: The South West Coast Path Day 15 – Mawgan Porth to Newquay
Mawgan Porth
A walk from Mawgan Porth, Sat, 3 Oct 2009 by Philip Halling
Mawgan Porth to Newquay
Week 2 – Day 8 – Saturday 3 October 2009
Distance 6.5 miles, Ascent 750ft (approx)
Yesterday's long walk from Padstow to Mawgan Porth has afforded me a shorter half-day walk through to Newquay, enabling me to catch the train at lunchtime for my journey home.
An ascent from Mawgan Porth leads to a cliff top walk and soon Beacon Cove is below me, though I've never been here before, I am familiar with it through a song by folk singer, Tom Palmer. After a fine week, there is a definite feel of autumn in the air with a strong wind blowing in off the sea buffeting me as I walk and a sky which has the appearance of rain coming in off the Atlantic. The coast path continues and follows the cliff tops providing good views over Watergate Bay and Watergate or Tregurrian Beach, this broad west facing sandy beach being a haven for surfers. A brief descent and Watergate Bay Hotel is passed before returning to the cliff top walk which brings me to the northern fringe of the seaside resort of Newquay, and popular as a surfers' paradise. Following the coast path as it enters the town I pass Porth Beach and Tolcarne beach and arrive at the railway station bringing to an end my second week on the South West Coast Path. Total miles of coast path walked during week 2 approximately 93.
Click the blue circles to see a photograph taken from that spot and read further information about the location. The blue lines indicate the direction of view. There is also a slideshow of this trip. ( )
↓ Scroll down here ↓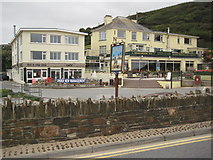 Merrymoor Inn, Mawgan Porth
The Merrymoor Inn overlooks the beach at Mawgan Porth.

Mawgan Porth Beach
Mawgan Porth Beach viewed from the South West Coast Path with Trenance Point on... more

Beacon Cove
Beacon Cove to the south of Mawgan Porth is the subject of the song 'Beacon Cove'... more

Westgate Beach
Westgate beach viewed from the coast path near Stem Point.

Westgate Beach
The northern end of Westgate Beach with Stem Point in the background.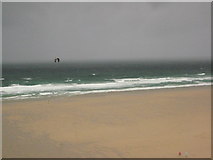 Stormy day on Watergate Beach
After a week of settled autumnal weather the first storm of the autumn blows in on... more

Watergate Bay Hotel
Watergate Bay Hotel overlooks Watergate Beach which can be seen on the left.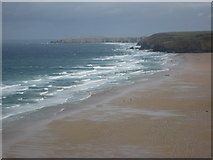 Watergate Beach
Surfs up on Watergate Beach with the autumn's first storm.

Unstable cliffs above Watergate Bay
Unstable cliffs above Watergate Bay viewed from the South West Coast Path.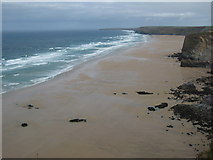 Watergate Beach
Tregurrian or Watergate Beach viewed from the coast path.

South West Coast Path at Whipsiderry
Approaching Newquay, which can be seen in the distance, on the South West Coast... more

Whipsiderry Beach
Whipsiderry Beach with Newquay in the background.

Road down to Tolcarne Beach, Newquay
All images © Philip Halling and available under a Creative Commons licence

.