Exploring SD9920

Links for SD9920
---
This square contains one road and one path, but is almost entirely CRoW access land. Most of the area is in Ripponden Civil Parish, formerly Soyland.
The road is Blackstone Edge Road, constructed as a turnpike (toll) road from 1815 to 1824. The part in this square was built in 1815. The road became toll-free in November 1886 when the turnpike trust was dissolved. In this square the 1850 map shows the road to be the boundary between Sowerby Township on the NW side and Soyland Township.
Next to the road there is the disused Wicken Hill Quarry, which might have been used to produce stone for the walls that were built where the road passed through enclosed land, and also broken stone for the road foundations. The specification for the walls was two feet thick at the base, one foot at the top, with a height of four feet. Milestones were also provided. These were placed a quarter of a mile north of the present milestones, which I believe were replacements erected by the West Riding County Council some time (on map evidence) between around 1908 and 1930.
Turvin Clough flows in its valley to the north-west of the road. It was the boundary between Sowerby and Turley Holes Moss.
On the south-east side of the road there is a vast expanse of wet moorland, called the Liberty Rush Bed. The track shown on the 1:25000 map is named 'Liberty Gate' on the 1850 six-inch map, 'Gate' here meaning a track over open land. The name 'Rush Bed' demonstrates that these wilderness areas had economic use in the old days.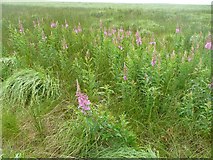 It was a surprise to find Rosebay willowherb on the moor. There are several patches of it amongst the purple moor grass and rushes.
The Calderdale Way runs along the ridge of Great Manshead, following approximately a track named 'Manshead Gate' on the 1850 map.
This is the view over Liberty Rush Bed from the Calderdale Way. The land on the ridge is dry, with boulders of millstone grit.
A desolate area, yet interesting. Although generally wet underfoot, there are millstone grit boulders amongst the grass and small areas of dry land with heather. You have to watch out for hidden stream channels, which can be a metre deep. In the upper centre of the image Blackstone Edge Road curves around the disused quarry at Wicken Hill.
by Humphrey Bolton
References
For six-inch OS maps from 1850 to the 1930s, visit
Link

For 1:2500 maps, visit
Link

and type in the all-figure grid reference, eg for the centre of the square 399500 420500.
For local history, borrow or buy 'Cragg Vale, A Pennine Valley' by Stephen Welsh, Pennine Desktop Publishing, 1993, ISBN 0952278308. This has been reprinted recently and costs £4.95.
---
Great Britain 1:50 000 Scale Colour Raster Mapping Extracts © Crown copyright Ordnance Survey. All Rights Reserved. Educational licence 100045616.

Further links for SD9920