Fade Demo Article
Published: 19 December 2010
Fading two Geograph images
This article demonstrations a experimental facility to fade between two images.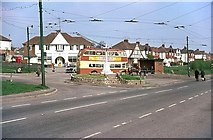 This was the western terminus of the route at the Bull Inn, Barming (which is behind the photographer).
Remove the trolleybus and the overhead wires with their poles, and the view is virtually unchanged today. War memorial, corner shops, phone box, even the zebra crossing at the right are still to be seen in the current Local Live birds eye views.
For a slide show of British Trolleybuses in the late 60s
Link
by Alan Murray-Rust
Drag the slider below to fade the main image between the two images mentioned above:
How?
The above demo is simply:
[image id=553645]
[image id=1331765]
[fade=553645=1331765]
---
---
( Page
1
2
3
next >>
)