Kennet Avon Canal Devizes to Bradford on Avon
---
DEVIZES
================================================
Manton Lock no 49 : Lock no 48 : Manifold Lk no 47 : Prison Bridge no 142 : A.P.Herbert Lock no 46 : The Cave Lock no 45
================================================
2010
2009
2010
1999
2010
2009
2010
2010
2010
2009
2010
2007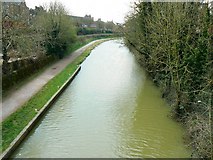 Facing west south west. The viewpoint is just to the east of the well-known 2° west meridian (the only line of longitude to coincide exactly with an OS gridline in the UK). The majority of the canal seen in this image lies west of the gridline.
by Brian Robert Marshall
1977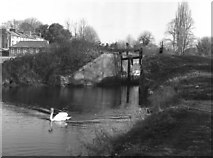 The derelict Maton Lock may have looked very picturesque in 1977 with the swan in attendance, but was, of course, no substitute for the fully working lock that has now been restored here.
by Dr Neil Clifton
1977
1985
1992
The locks on the upper part of the famous Caen Hill lock flight at Devizes are spaced further apart. The lock to the left of the picture drops the canal under the A361 road bridge.
by David Stowell
2009
Basin overflow upstream of lock number 47 and at the end of Black Horse beer garden. Note the escape route for those unfortunate to have fallen in having had one too many!
by Roger Gittins
2009
2009
2009
First basin after the 16 locks of the Caen Hill flight on the Kennet and Avon canal.
by Roger Gittins
2010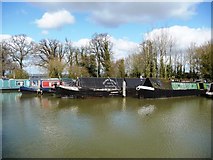 The Fellows Morton and Clayton boat in the centre is an old working boat called Clent.
by Christine Johnstone
---
---
Great Britain 1:50 000 Scale Colour Raster Mapping Extracts © Crown copyright Ordnance Survey. All Rights Reserved. Educational licence 100045616.
---
( Page
1
2
3
4
5
6
7
8
...
next >>
)