Page 10
Kennet Avon Canal Devizes to Bradford on Avon
---
===============================================
Hilperton Wharf : Parsons Bridge no. 167 : Balls Bridge no. 168 : Ladydown Aqueduct (railway) : Biss Aqueduct : Ladydown Bridge no. 169 : :
===============================================
2010
2013
2017
2013
2015
2017
2017
2015
2015
1977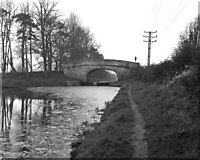 Seen from the east. When the bridge was photographed in 1977 it was of little consequence, leading only to agricultural land on the north side of the canal, but since then it has been rebuilt and now the bridge carries a metalled road leading to the marina buildings and some new houses.
by Dr Neil Clifton
2004
This is the replacement for the "old" Parsons Bridge built in the same place if not at the same angle.
The stone from the bridge shown in Dr. Clifton's photo was used to build a bridge for the towpath over the entrance to the new marina a few yards behind the camera position.
The boat on the left is turning into Hilperton Wharf chandlery and services.
by Maurice Pullin
2004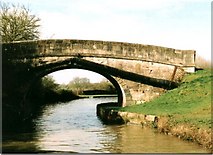 Some interesting comparisons with photos by Dr. Neil Clifton in this square taken in 1977.
by Maurice Pullin
1977
Looking from the west, this is where the canal passes over two aqueducts close together: the nearer is the Biss Aqueduct over the River Biss, then comes the Ladydown Aqueduct over the railway. In the distance can be seen Balls Bridge, on the far side of Ladydown Aqueduct. Balls Bridge carries a footpath with right of way.
by Dr Neil Clifton
1977
This bridge, seen here from the east, appears to be an accommodation bridge belonging to Lady Down Farm which is close by. No footpath or cart track appears to cross the bridge.
by Dr Neil Clifton
2003
A farm accommodation bridge which appears to be little used.
An industrial part of Trowbridge appears in the background.
by Maurice Pullin
---
---
==============================================
Widbrook Bridge no. 170 :
==============================================
2007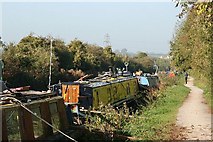 The nearby marina provides moorings which helps reduce the number of boats requiring on line moorings, as seen here. British Waterways make a charge for boaters wishing to moor in any one place for more than 14 days. Depending on one's point of view this is seen as:
A: a reasonable attempt by British Waterways to maximise income from their assets.
B: British Waterways screwing as much as they can from the boaters.
by Maurice Pullin
2007
Formerly known as Widbrook Marina the basin was dug out in the early 1990's following the restoration of the Kennet & Avon Canal. It has facilities for boat owners as well as moorings and a hire fleet.
The Gongoozler public house and restaurant is also prominent here.
Link

by Maurice Pullin
1997
Although it does not look like a very important bridge from canal level, Widbrook Bridge, seen here from the east, carries the main A363 between Bradford and Trowbridge.
by Dr Neil Clifton
| | |
| --- | --- |
| 2009 | 2005 |
---
---
Great Britain 1:50 000 Scale Colour Raster Mapping Extracts © Crown copyright Ordnance Survey. All Rights Reserved. Educational licence 100045616.
---
( Page
< < prev
1
...
5
6
7
8
9
10
11
12
next >>
)