Lomond Hills Regional Park

Links for NO2505
---
SECTION ONE
Tyndall-Bruce Monument
Built to commemorate Onesiphorus Tyndall-Bruce this monument has recently been refurbished.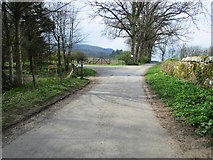 The main estate road from the Centre for Stewardship
NO2407 : Falkland Centre for Stewardship
reaches this junction after about a quarter of a mile. The turning to the left eventually leads to the Tyndall-Bruce Monument on Blackhill, near West Lomond. Just before the turning is a footpath to Maspie Den and the Yad waterfall - a curiosity in that it is possible to walk behind the waterfall. This is one of two possible starts to the Maspie Den path from the estate road. The road straight ahead continues for some distance to serve the estate.
See Falkland article
Link
See Lomond Hills Regional Park article
Link
by Bill Kasman
---

Further links for NO2505
---
( Page
< < prev
1
...
6
7
8
9
10
11
12
13
next >>
)