London from the air
---
Our journey includes aerial photos taken by the author within 40Km of Heathrow Airport in Grid Square
TQ0776
. We start in the north east of the city, heading south and then following the Thames towards and beyond Heathrow. Most, but not all, of the flights from which these photos were taken started or finished at Heathrow.
The North East
The Lea Valley (also known as Lee Valley) Reservoirs dominate many of these photos. They not only provide a water supply to the city of London, but they also provide a home to a wide range of birds and have been designated a Site of Special Scientific Interest as a result. The reservoirs are part of the Lee Valley Regional Park
Link

.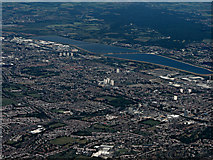 The three largest of the thirteen reservoirs within the Lea Valley complex
Link

.
by Thomas Nugent

The Olympic Games Site
The massive scale of this site is best appreciated from the air.
The Aquatics Centre building and The Orbit are also visible. Viewed from a Heathrow bound flight from Glasgow.
by Thomas Nugent
Shared Description
Docklands and The East End
Once the biggest docks in the world, London Docks closed in stages between the 1960s and 1980s, mainly as a result of containerisation which required larger ships, thus driving the trade further down the Thames.
The O2 Arena is at the lower right, the Thames Barrier and London City Airport can also be seen.
by Thomas Nugent




Thames Barrier
The Thames Barrier opened in 1984 following a 12 year construction period. Its job is to protect London from high tides and storm surges. Here is a
Link

to the wikipedia article about the barrier.
Isle of Dogs and Greenwich
The most distinctive natural feature of the docklands is easily recognised from the air.



Bermondsey, Rotherhithe and Greenland Dock
This former docklands area in Southwark on the south bank is now mostly residential. Greenland Dock is the largest surviving dock on the south bank of the Thames.
Greenland Dock is prominent in the centre. Taken from a Heathrow bound flight from Glasgow.
by Thomas Nugent



Tower Bridge and The City of London
Tower Bridge is probably the most famous landmark in London, if not in the UK. Mistakenly known as London Bridge to many tourists, urban legend would have us believe that an American property developer thought that he had bought it in the late 1960s, when he had in fact bought the old London Bridge.
The City and the area around the south end of the bridge are home to some striking ancient and modern landmarks, namely St Paul's Cathedral, The Gherkin, The Shard and City Hall buildings, all of which can be seen in these photos.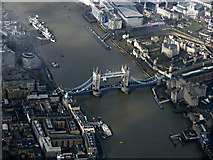 City Hall and HMS Belfast are on the left, the Tower of London is on the right. Seen on approach to Heathrow.
by Thomas Nugent


---
---
( Page
1
2
3
4
next >>
)