Lower Largo and the Serpentine Walk

Links for NO4102
---
Section Three: Other Photographs
This section is intended to showcase some of the excellent photographs of prominent features of Lower Largo which have been placed on Geograph by various contributors. Unlike the first two sections of this article they are in no particular order and do not represent any particular time period. Any member who wishes to add an image to this section is encouraged to do so.
Village coastal protection - photo taken from the rocks at the east side of the Crusoe Hotel
by Andy Campbell
The viaduct at Lower Largo in Fife, birthplace of Alexander Selkirk, the 'real' Robinson Crusoe.
by Jerzy Morkis
Probably the most photographed building in the village, as it stands on the site of the small cottage in which the mariner Alexander Selkirk was born. This terrace was built around 1885 by David Gillies, and was Category B listed
Link

in 1984.
by Richard Law
Shared Description
Lower Largo Harbour is the tidal mouth of the burn which flows underneath the railway arches to the sea. The village is the birthplace of Alexander Selkirk, better known as "Robinson Crusoe".
by Colin Smith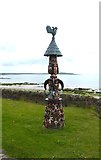 This distinctive and colourful hand-painted wood carving by local artist Alan Faulds stands in his own private garden in Lower Largo which is passed by the Fife Coastal Path. It is based on the Malagan carvings, made in New Ireland (Papua New Guinea) for use in Malagan wedding and other ceremonies, some of which last for several days. These statues used to be burnt at the end of each ceremony but many are now retained, because the carving skills to produce them are now held by very few Papuan sculptors.
by James Allan
Statue to Alexander Selkirk on the front of the building. Passed on the Fife Coastal path long distance path
by John Sparshatt
Note the 'Man Friday' footprint on the sign, in acknowledgement of Alexander Selkirk who was born in the village. Kincraig Point is in the background.
by Jim Barton
---

Further links for NO4102
---
( Page
< < prev
1
2
3
4
5
6
)