9. I-J
My 2020 Coronavirus Lockdown walking project
---
I
212. IBBETT ROAD

Ibbett Road forms part of a small layout of roads to the north of Kingswell Road, ending at Hadow Road which contains the local schools, Kingsleigh Primary and The Bourne Academy (previously Kingsleigh Secondary). Hadow and Ibbett are named after men who were part of the Borough's Education Committee around the time that the schools were built in the 1950s (and I suspect Bennion may have been too, as this is the name of the road which links the two).
J
213. JAMESON ROAD

Right at the limit of my 2km radius from home, it is just the part of it visible here that is within the circle. We view it from Namu Road, although most will be familiar with the other end of it, on the main Wimborne Road.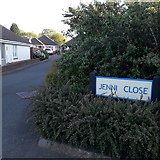 214. JENNI CLOSE

A small, modern development of bungalows behind back gardens of the main Wimborne Road. There are curiously many of these little infill developments in the area named after girls' names - Emma Close and Samantha Close are two that spring immediately to mind. This one has a very specific spelling rather than Jenny or Jennifer, so maybe they are named after daughters or wives of developers!
215. JESSOPP CLOSE

Just before 7am we look along Jessopp Close, a short, fairly steep cul-de-sac off the crest of Redhill Drive just as it heads down to meet Wimborne Road. We can glimpse the roof of one of the bungalows above the parked cars.
216. JUBILEE GARDENS

Part of the large-ish Slades Farm council estate built in the mid-1970s. The jubilee referred to is therefore almost certainly the Silver Jubilee of the Queen.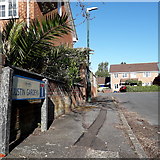 217. JUSTIN GARDENS

A small cul-de-sac off Headswell Avenue, in a small stretch of the latter which has more modern (perhaps 70s) housing compared with the remainder which dates from the 1930s.
---
---
( Page
< < prev
1
...
4
5
6
7
8
9
10
11
12
next >>
)