SK76 in Nottinghamshire
---
Norwell
St Laurence's (sometimes spelt Lawrence) Church has a broad 13C west tower, heightened with buttresses added in the 15C. The chancel is also of the 13C, with a five-light east window inserted c.1300. The church also has chapels in transepts, and a well-preserved early 14C monument to a lady. There is a derelict dovecote built of wood, mud and plaster. (Pevsner)
Built in 1852 as a four-storey mill, was dismantled in 1920 and reduced to a three-storey stump, roofed over and used as a store. The mill was bought in 1977 and has been undergoing restoration since 1980, the tower being built up to its original height of 42 feet. (Wikipedia) The windmill has a datestone inscribed 'Cap and sails removed 1920'.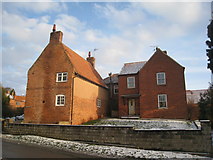 One of many fine examples of Mid-Nottinghamshire vernacular architecture of the seventeenth and eighteenth centuries to be found in Norwell.
by Jonathan Thacker
Ivy Cottage (on the left) is an example of a 17C timber-framed house clad in brick (Grade II listed).
This is Norwell Main Street. Church Farm House and adjoining cottage (Grade II listed) were built in the 18C.
On the south side of the Church is a well-defined rectangular moat with a single causeway, into the central area, which would have given access to the medieval 'Hall' or house (Wikipedia)
The church and most of the manor were granted to Southwell Minster, and the church was at one time served by eight priests, the support of which must have been a burden for what is a relatively small manor. The manor house in its moated site was occupied until the 17C. Vegetables were grown on the site during the Second World War. Behind some of the red-brick fašades of the cottages there are old timber frames, the oldest of which has been dated to 1490. (SLS)
Norwell Woodhouse
Norwell Woodhouse was a separate civil parish from 1866 to 1935. (Youngs)
In the hamlet of Norwell Woodhouse there are two moated sites, one at
SK744627
next to Moat Farm. These indicate successful farms made by clearing some of the outlying woodland of the manor. The farmers must have become prosperous enough to have the moats dug as a status symbol (SLS). They would presumably also be useful as fishponds.
Willoughby
There is a medieval site at
SK789631
, with a 12C moat and fishponds shown on the OS map. This was the site of the manor house of Willoughby, which was gradually abandoned after the Black Death. The manor house was reported to be a ruin in 1785. (SLS) There is no public access.
---
Great Britain 1:50 000 Scale Colour Raster Mapping Extracts © Crown copyright Ordnance Survey. All Rights Reserved. Educational licence 100045616.
---
( Page
< < prev
1
2
3
4
5
next >>
)