Sir Basil Spence - Architect 1907-1976
---
Introduction
The purpose of this article is to bring together key photos of the works of Spence from the geograph database in a single document and to provide some basic information about Spence and each of his featured works. It is not intended to be a full or complete history or reference of the UK works of Sir Basil Spence.
Even today, more than forty years after his death, opinions about Spence's Modernist/Brutalist style and legacy vary enormously. This article does not judge or offer any opinion, readers are free to form their own.
Structure of this article
Following a short biography, the most significant works are listed first, the remaining works are listed in no particular order.
The article is still a work in progress, so check back occasionally for the latest updates. Recommendations for inclusion are welcome.
Short Biography
Basil Urwin Spence was born in Bombay, India on 13th August 1907 to Scottish parents. His father, Urwin Spence, was an analytical chemist employed by the Indian civil service. His mother's name was Daisy (maiden surname Crisp).
His education began at the John Connon School
Link

in Bombay, which was established by the Bombay Scottish Education Society. He remained there until the age of 12, at which time he moved to Scotland to continue his education as a day pupil at George Watson's College in Edinburgh.
After leaving George Watson's in 1925, Spence enrolled at Edinburgh College of Art, where he intended to study painting and sculpture, but he soon transferred to the School of Architecture, where he chose to study design practice and town planning.
Spence spent 1929–1930 in London where he worked as an assistant in the office of Sir Edwin Lutyens, whose work later greatly influenced Spence's own style. It was at this time that Spence got to know William Kininmonth, with whom he later set up in practice. Spence also studied during his time in London, attending evening classes at the Bartlett School of Architecture under A. E. Richardson.
On returning to Edinburgh College of Art in 1930 for his final year of studies, he was appointed a junior lecturer while still a student and he continued to teach there until 1939. Spence won many accolades and awards during his student years, including the RIAS (Royal Incorporation of Architects in Scotland
Link

) Rowand Anderson Medal and the RIBA (Royal Institute of British Architects
Link

) Silver Medal as the best architectural student in the UK.
After graduating in 1931, Spence set up a practice with Kininmonth, based in the offices of Rowand Anderson & Paul at Rutland Square, Edinburgh.
Spence married Mary Joan Ferris of Tiverton, Devon in 1934. In the same year, fellow Scot Balfour Paul
Link

offered partnerships to Spence and Kininmonth, thereby creating the company Kininmonth, Spence and Paul.
World War 2 intervened and Spence was commissioned as a second lieutenant into the Camouflage Training and Development Centre of the Army, based at Farnham in Surrey. Spence took part in the D-Day landings in 1944. He reached the rank of Major before being demobbed at the end of the war. Prior to the war, Spence had been a member of the Territorial Army.
After the war, Spence set up his own practice, Basil Spence & Partners, with Bruce Robertson. This was based at Moray Place, Edinburgh, where it remained until long after Spence's death. He was awarded an OBE in 1948 for his work in exhibition design. In 1951 he opened a London office and moved there permanently in 1953. He opened a second office at Canonbury in 1956 and this office became the creative hub of the practice.
Spence was well established and respected as an architect of exhibitions and public housing schemes, but his big break came when he won the competition to design the new Coventry Cathedral in 1951. This was to become his most famous work and made him a household name as he made many public speaking appearances around the country and around the world in support of the cathedral project.
The success of the cathedral project resulted in many new commissions and an overflowing order book for the practice which became stretched at times. Spence used his position as an examiner at many schools of architecture to identify and hand-pick the top students of that time for working in his practice.
These new commissions included many of the works for which Spence would become most famous: Sussex University, the Erasmus Building at Cambridge University, Hyde Park Cavalry Barracks and The Chancery of the British Embassy in Rome. Spence was also involved in the development of Vange, one of the villages which formed the new town of Basildon.
Spence's Scottish office was also enjoying a period of great success, including the Newhaven flats which followed the Dunbar cottages in winning a Saltire Award. It also received commissions for several university buildings in Scotland and the north of England. Two major works in Glasgow were also undertaken, Abbotsinch Airport (now known as Glasgow International Airport) and the Hutchesontown C redevelopment in the Gorbals.
Spence was President of RIBA from 1958 to 1960 during which time he improved its public image and that of modern architecture in general. From 1961 to 1968, he was Professor of Architecture at the Royal Academy.
In the early 1960s Spence restructured his practice into three separate partnerships, two of which were in London (Sir Basil Spence, Bonnington & Collins, and Sir Basil Spence OM RA) and the third in Edinburgh, where the practice continued as Basil Spence & Partners until 1964 when it was renamed Sir Basil Spence, Glover & Ferguson.
Spence continued to work on public and private commissions right up to his death in 1976. These were mostly universities and office buildings including Aston University Library and Management Centre. His last work was for an unexecuted cultural centre for Bahrain, which he worked on during an illness in 1976. Some of his final commissions were built after his death; for example, his design for the new Glasgow Royal Infirmary was completed in 1981.
Spence died in November 1976 at his home at Yaxley, Suffolk and was buried at nearby Thornham Parva. His practice – Spence, Ferguson and Glover continued until 1992 before being disbanded.
The Works
1. Coventry Cathedral
Formally known as the Cathedral of St Michael, Coventry Cathedral was almost completely destroyed by German air raid bombing in 1940. Ten years later a competition was launched for designs for a new cathedral on the site of the old one. Basil Spence was the winner and he insisted that the ruins of the destroyed cathedral should be left as a garden of remembrance.
Whilst Spence was responsible for the design of the building and some of the interior fittings, such as the font and choir stall, his building is augmented by art, including a vast tapestry by Graham Sutherland and a sculpture by Sir Jacob Epstein decorating the exterior. Stained glass is also an important feature of the building, including works by John Piper, Patrick Reyntiens, Lawrence Lee, Geoffrey Clarke and Keith New.
The building is Grade 1 Listed
Link

by Historic England.
A building so laden with significance it's a miracle it still stands. It is a landmark of the new architecture, symbolises more than any other single thing Coventry's rebirth after the utter devastation of the war, and, if this isn't over-egging the pudding, by extension the rebirth of the whole country.
The competition to re-build was won by Basil Spence who began work in 1951, consecration was in 1962. Spence deferred to an extent to the shell of the previous building (
SP3379 : Ruins of Coventry Cathedral
), the preservation of which was a far-seeing act, and the two are well integrated. Spence used similar red sandstone. Grade I listed.
Many prominent artists of the day contributed, including, roughly central in this shot, Jacob Epstein's sculpture of St Michael and Lucifer (
SP3379 : St Michael's Victory over the Devil
).
A picture of the cathedral's construction:
SP3379 : Early stages of construction of the new Coventry Cathedral
.
by Stephen Richards
1.1 Historic Geograph photos of Coventry Cathedral
Ben Brooksbank was there with his camera in 1951 and again in 1957.

1.2 Exterior photos of Coventry Cathedral



1.3 Interior photos of Coventry Cathedral

1.4 Photos of stained glass at Coventry Cathedral

1.5 Photos of other works of art at Coventry Cathedral
Perhaps worthy of special mention amongst the other works of art to be found in the cathedral is the giant tapestry by Graham Sutherland.
Tapestry by Graham Sutherland (1903-1980), one of the largest in the world. It measures 23m by 12m and took twelve weavers in France over two years to complete using over 900 different colours of hand-dyed wool.
by J.Hannan-Briggs
Shared Description
2. Hyde Park Cavalry Barracks
Completed in 1970 on the site of earlier barracks and often still referred to informally as Knightsbridge Barracks. Designed and built to accommodate 23 officers, 60 warrant officers and non-commissioned officers, 431 rank and file, and 273 horses. The 33 storey, 94-metre (308 ft) tall residential tower is the most prominent feature of the barracks and indeed of the area in general. Spence opted for a tower design as this would minimise the building footprint compared to a lower-rise slab block, thereby preserving the uninterrupted views of the park enjoyed by many neighbouring properties on Knightsbridge and Kensington Road.
Canmore
Link

describes the tower as follows "The Married Quarters tower block (Block F) provides accommodation, spread over 28 floors, for 111 soldiers, their families and a caretaker. Each floor is made up of three two bedroom flats and one three bedroom flat. The smaller flats have a dining recess off their kitchens while in the larger flats the dining area is provided off the living room".
2.1 Historic Geograph photos of Hyde Park Cavalry Barracks
Geograph has one historic photo of the barracks, from 1959, thanks to David Wright.

2.2 Current Geograph photos of Hyde Park Cavalry Barracks
Understandably, most geograph photos of the barracks are of the tower, but there are a few of the lower level buildings too.
A supremely elegant tower, though controversial when it was built for its intrusion upon the park. After forty-plus years it has perhaps become part of the furniture. By Basil Spence & Partners, 1959-63 (built in 1967-70), for the Household Cavalry.
In October 2015, an application for listing was rejected, against the advice of Historic England, a decision no doubt welcomed by the MoD which would like to sell the site for housing. Such a move would almost certainly involve the tower's demolition. The Twentieth Century Society thinks that DCMS, the department responsible for listing, caved into MoD lobbying.
by Stephen Richards
This aerial photo gives a good indication of the scale of the tower compared to other buildings in the vicinity of Knightsbridge and Hyde Park.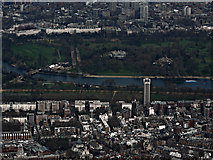 Looking over Knightsbridge, past Sir Basil Spence's 308ft Hyde Park Barracks tower from a Heathrow bound flight from Prague.
by Thomas Nugent




3. No. 50 Queen Anne's Gate
The building was completed in 1976 and became the main headquarters for the Home Office from 1978 until 2004 when they moved to new premises. Further refurbishment was completed in 2007 when the Department for Constitutional Affairs moved into the building.
3.1 Current photos of 50 Queen Anne's Gate
A monumental, "mulishly proportioned" speculative block of stone. There is a tower at the junction with Queen Anne's Gate which is not very much taller than the broad front along Petty France with bulging windows at the bottom and overhanging top storey. It was built in 1972-76 to the designs of Basil Spence and the Fitzroy Robinson Partnership, and was occupied for many years by the Home Office. After they decamped down the road (
TQ2979 : Home Office, Marsham Street
), the Ministry of Justice moved in.
View from the other end:
TQ2979 : 102 Petty France (1)
.
by Stephen Richards

4. Glasgow Airport
Spence's building was a rectangular block with a distinctive concrete barrel-vaulted ceiling and roof. Two piers extended airside from the east and west ends of the terminal to take passengers to and from the aircraft. Spence's original terminal building, that great umbrella of concrete vaults, has since been almost surrounded by extensions and additions to the extent that today it is barely visible to the casual observer. The detached boiler house survives and appears to be part of Spence's original design.
4.1 Exterior photos of Glasgow Airport



4.2 Interior photos of Glasgow Airport


---
---
( Page
1
2
next >>
)