Geo-Trips :: A walk in Drummondreach Oak Wood SSSI
Black Isle
A walk from Near Alcaig, Sat, 13 Apr 2013 by Julian Paren
At one time the Black Isle had extensive natural tree cover, but the needs of wood for illegal and legal distilling around Ferintosh saw the woodland reduced to small pockets, and the peat exhausted as well. One area remaining is Drummondreach Oak Wood (or called Teandore Wood) that lies each side of a steep burn with a lobe of woodland beside it. It is a Site of Special Scientific Interest.
You can park close to the footpath that leads into the wood or beside Urquhart New Graveyard. The walk outlined on the GPS track is 1.5 miles long, and can take an hour if you study the trees and flowers and watch out for the resident birds.
The wood has many oak trees and beech trees. The woodland contains a vitrified fort and encloses a natural amphitheatre famous as a preaching ground after the Great Disruption when many congregations found themselves without a church building. There are reports of over a thousand people listening to gaelic sermons in the Preaching Dell. The burn that flows through the woodland is also called The Sacrament Burn.
On the map below, the grey line is the GPS track from this trip. Click the blue circles to see a photograph taken from that spot and read further information about the location. The blue lines indicate the direction of view. There is also a slideshow of this trip. ( )
↓ Scroll down here ↓

From the path beside the Sacrament Burn
The first of the fine oak trees that are the glory of Drummondreach SSSI is passed... more

Surviving walls of Drummondreach Fort
There is little to see of this old fort except a rise in the ground, these walls... more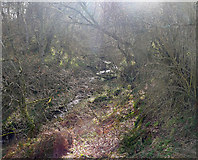 Ferintosh Burn
The burn is also called The Sacrament Burn because communion was celebrated here... more

Path through Drummondreach Wood
This Site of Special Scientific Interest is dominated by oak and downy birch... more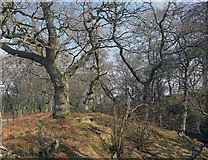 Drummondreach Wood
Drummondreach Wood is a Site of Special Scientific Interest and is an oakwood that... more

Drummondreach Wood and its natural woodland
A pleasant place to linger with an inquisitive dog.

Ferintosh Burn
The stream that is also known as the Sacrament Burn when it passes beneath the... more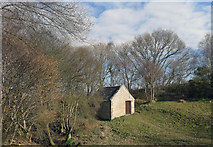 The Ferintosh Preaching Stance
There is a building behind where the preachers of old communicated with their... more
All images © Julian Paren and available under a Creative Commons licence

.