Geo-Trips :: A short walk in the woods at Flowerburn
Black Isle
A walk from near Flowerburn, Sun, 30 Nov 2014 by Julian Paren
Callachy Hill is part of the Learnie Red Rocks Mountain Bike area. It forms the furthest point of this circular walk starting from a footpath that leaves the Rosemarkie to Eathie road around a mile beyond the turning by the Fairy Glen. One car can be squeezed beside the road at the footpath sign - although the sign takes some finding. See the map for the exact location.
The footpath goes through cleared woodland and then follows the edge of the Fairburn fields before uniting with some of the prepared bike trails on Callachy Hill.
The walk is just 2.9 miles long and takes a leisurely 1 hr 45 mins.
On the map below, the grey line is the GPS track from this trip. Click the blue circles to see a photograph taken from that spot and read further information about the location. The blue lines indicate the direction of view. There is also a slideshow of this trip. ( )
↓ Scroll down here ↓

Footpath into Flowerburn Wood
The footpath is easy to follow so must be well used by those who live locally.... more

Footpath in Flowerburn Wood
The wood is fairly dense and has a good track through it used by walkers and... more

Footpath on Callachy Hill
There is a fine network of cycle paths for mountain bikers on Callachy Hill. This... more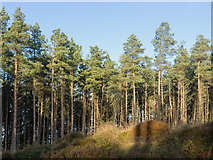 The Cairn on Callachy Hill
There is a clearing in the forest at the site of the Cairn. The terrain... more

The centre of the Callachy Hill mountain bike trails
Three mountain bikers contemplate the descent from the top of Callachy Hill. The... more

Mast on Callachy Hill
One of the smaller masts that frequent the high ground of the Black Isle.

Track and bridleway behind Flowerburn
This track had been used by horses and some jumps exist across part of the track.... more

Footpath on Callachy Hill
Marked on the map solely as a break in the woodland, this break contains a good... more

Open ground in Flowerburn Wood
This section of the woodland has been clear felled, leaving a few survivors for... more
All images © Julian Paren and available under a Creative Commons licence

.